Baseball is the epitome of a team game, but star players are essential for the success of any franchise. Here are the athletes that every team cannot live without in the American League.
American League East
Toronto Blue Jays: Bo Bichette – SS
Bo Bichette is the best young star on the Toronto Blue Jays. He is a five-tool player that is going to headline the Blue Jays for years to come. There is no doubt that Bichette has struggled because of his age, but his upside is tremendous.
The 23-year-old is batting .250 in 2021, with a below-average on-base percentage, but he has hit five bombs.
Baltimore Orioles: Trey Mancini – 1B/OF
The Baltimore Orioles are not a good baseball team, but they are worse without Trey Mancini. Mancini missed all of 2020 battling Stage III colon cancer, and it showed on the field in Baltimore. Mancini started hot, but he has cool down immensely.
The first baseman still has phenomenal talent, averaging 30 home runs per season with a .332 on-base percentage in his five-year tenure.
Tampa Bay Rays: Tyler Glasnow – SP
The Tampa Bay rotation has held up in 2021 because of Tyler Glasnow. After the departure of Blake Snell and Charlie Morton, Glasnow has taken over the ace role and excelled throughout the process. He is 2-1 with a 2.05 ERA and 46 strikeouts to start the year.
Boston Red Sox: J.D. Martinez – DH
J.D. Martinez leads the Boston Red Sox offense. He is the one player who has been consistently dominant throughout the first four weeks of the season. The Silver Slugger is slashing .359/.432/.731 with seven homers and 21 RBIs.
New York Yankees: Gerrit Cole – SP
The Yankees have struggled to start 2021, but they are starting to get hot…maybe? The one player who has looked like a star in 2021 is Gerrit Cole. Cole is 3-1 with a 1.71 ERA.
The All-Star has struck out 50 batters in 31.2 innings of work. If it were not for Cole, the Yankees would not have survived their slid to start the 2021 campaign.
American League Central
Cleveland Indians: Shane Bieber – SP
Shane Bieber was bested on Saturday night by Gerrit Cole in a pitching showdown for the ages. Even though Bieber lost, it's hard to find many better pitchers than the 2020 Cy Young winner.
The pitcher is only in his age 26 season, so we have not seen Bieber's best, which is exciting. In 2021, he is 2-2 with a 2.48 ERA. He is leading the league in innings pitched and strikeouts with 36.1 and 57, respectively.
Kansas City Royals: Whit Merrifield – 2B/OF
The Royals have countless young players who are fun to watch, but nobody has been more consistent than Whit Merrifield. Merrifield is a one-time All-Star, but he is a star in Kansas City. The utility player is a career .294 hitter who has averaged 16 home runs and 32 stolen bases over his six-year MLB tenure.
Detroit Tigers: Casey Mize – SP
Casey Mize is still a rookie, but he is a pitcher that the Tigers can build around for years to come. Mize is 24 years old, and he has shown his MLB immaturity at times. However, he has stepped up in a significant way in some of his 2021 starts.
Mize seems to get better every time he takes the mound. His best outing was on April 12 against the Astros. The pitcher went seven scoreless innings and struck out five batters, leading Detroit to a 6-2 victory.
Minnesota Twins: Byron Buxton – CF
Byron Buxton has been dominating in 2021. He is playing for a Twins team that has not lived up to its preseason hype, but Buxton has continued to show why he is one of the best centerfielders in the game.
Buxton has an on-base percentage of .424, but that does not mean he is looking for walks. The outfielder is batting .382 with six home runs. Oh, I almost forgot to mention that he is a former Platinum Glove winner.
Chicago White Sox: Jose Abreu – 1B
Jose Abreu has been disappointing to begin the 2021 campaign, but he is the best player on the White Sox. His slow start is strange because Abreu has defined consistency for years.
Abreu is the reigning American League MVP in a season where he slugged .617 and hit 19 homers in sixty games. Abreu saw beach balls at the plate, and it showed throughout 2020.
American League West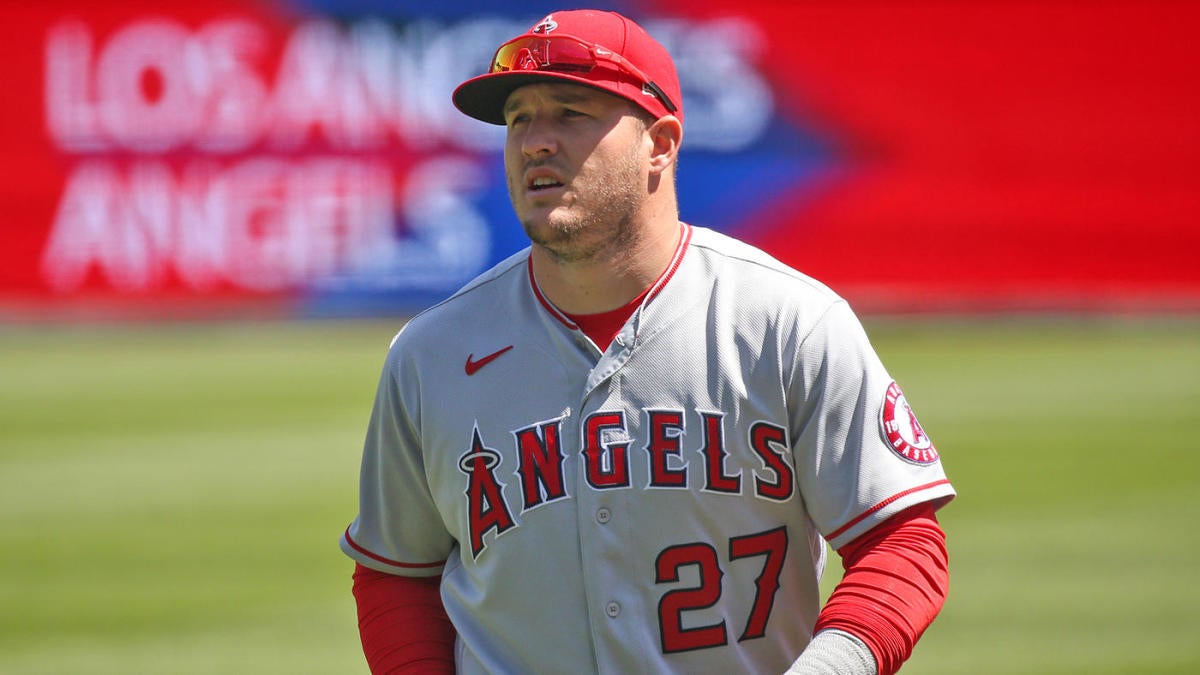 Los Angeles Angels: Mike Trout – OF
This was the easiest choice on the list. Trout is the best player in baseball and arguably the most outstanding position athlete of all time in MLB. Sadly, the three-time MVP is not playing for a franchise that is serious about winning a World Series.
The lack of talent around the outfielder has hurt his chance of winning, but he has been very successful as an individual. Trout is a career .305 hitter who has averaged 39 home runs per year over 11 big league seasons.
Oakland Athletics: Jed Lowrie – IF
In 2021, the Oakland Athletics would not be leading the American League West without Jed Lowrie. Lowrie is approaching 40 years old, but he is playing like he is in his golden years.
The infielder is slashing .296/.367/.507 with six doubles and 17 RBIs in 2021. If Lowrie continues his momentum, he will be invaluable in Oakland.
Houston Astros: Alex Bregman – 3B
Alex Bregman is a player that you love to hate, but you hate to love. The infielder was at the center of Houston's cheating scandal, but he is still a phenomenal ballplayer.
Bregman is off to a hot start in 2021, which is no surprise. The two-time All-Star is batting .340 with a .407 OBP in 14 games. Bregman's grit has helped lead the Astros over the past few seasons.
Seattle Mariners: Kyle Seager – 3B
Kyle Seager has been the lunch pail player in Seattle since he was called up in 2011. Kyle may be known around the league as Corey's brother, but he is vital for this franchise.
Seager has not missed a game yet in 2021, and he played in all 60 contests in 2020. Seager is only a one-time All-Star, but he has averaged a .325 OBP with 25 home runs per season in 11 seasons.
Texas Rangers: Joey Gallo – OF
There are not many former All-Stars on the Texas Rangers, so Joey Gallo earned my pick by default. Although Gallo has been solid for Rangers since 2015. He is the veteran leader in the clubhouse and on the field.
Gallo hits for power, averaging 40 bombs per season. The outfielder is only a career .209 hitter, but he won the Gold Glove in RF last season, so he brings a lot of value to a franchise.
Tanner Kern is a writer for Knup Sports and the Sports 2.0 Network. He is the host of Between the Lines, the official show of Baseball Spotlight, and the main contributor for the website. Connect with Tanner on IG @tannerkern and Twitter @tannerkern_.
---
Join our Discord
to leave a question or comment regarding this article. We have sports fans talking betting all day — every day! JOIN THE DISCORD NOW AND QUALIFY FOR PRIZES & BETTING SWAG!
---