In our Baseball Spotlight Chicago Cubs 2021 season preview, we take a look at everything from last season to projections for the 2021 season. Let's get started!
2021 could be the final year that the Cubs are relevant for a very long time. Chicago faces a free agent catastrophe at the end of the season, with Anthony Rizzo, Kris Bryant, and Javier Baez all preparing to hit the open market.
The Cubs will not repeat as National League Central Champions this season. The pitching is not as good as it was in 2020 when Yu Darvish was headlining the staff. Chicago's franchise is in shambles, and things could get terrible following the end of 162.
2020 Regular Season Record: 34-26 (.567)
NL East Finish: 1st
Postseason: Swept by the Marlins in NLWCS
2021 Projection: 80-82
NL Central: 3rd
Projected Opening Day Roster
Starters
C: Wilson Contreras 
1B: Anthony Rizzo
2B: David Bote
3B: Kris Bryant 
SS: Javier Baez
OF: Ian Happ
OF: Joc Pederson 
OF: Jason Heyward 
Bench 
C: Tony Wolters 
IF: Nico Hoerner, Eric Sogard
OF: Rafael Ortega, Matthew Duffy
Starting Pitchers
RHP: Kyle Hendricks, Jake Arrieta, Zach Davies, Trevor Williams, Adbert Alzolay
LHP: N/A
Bullpen 
RHP: Craig Kimbrel, Brandon Workman, Jason Adam, Ryan Tepera, Dan Winkler, Dillon Maples, Alec Mills 
LHP: Andrew Chaffin, Rex Brothers
Cubs 2021 Season Preview
The Chicago Cubs need to start the season hot, or the upcoming free agents will be used as trade bait at the deadline. The Cubs' pitching is going to cause them a lot of trouble in 2021.
I think their offense will be better this year, but I do not believe it can carry this team to the division title. The Cubs should be focused on a Wild Card spot because the Brewers are a superior team.
The Lineup
The core of the Cubs lineup is the three players who will be leaving at the end of the 2021 season: Anthony Rizzo, Kris Bryant, and Javier Baez. It appeared like the Cubs were going to get a deal done with Rizzo, but they could not make it happen by Opening Day.
It seemed like the Chicago players are very frustrated with the front office and the franchise in general. Kris Bryant publicly said that he was not having fun playing baseball in Chicago, but he needs to perform for this team to be respectable.
None of these players excelled at the plate last season. Baez batted .203 with an on-base percentage of .238. Rizzo hit .222 with 11 bombs, and Bryant recorded an OBP of .293, which is unacceptable.
The Cubs are paying these athletes too much money just to win Gold Glove Awards. They need to bring offense to the table, and if they hit as they did in 2020, it will be a long season in Wrigleyville.
My favorite addition for the Cubs for 2021 was Joc Pederson from Los Angeles. This will be the first time that Pederson is a true everyday player. Pederson was terrible last year as well, but he raked in Spring Training.
Pederson blasted eight home runs and had a .378 batting average in 51 plate appearances. If he does this in 2021, he will be the Cubs' most efficient offensive player.
The Pitching Staff
The Chicago Cubs no longer have Yu Darvish to rely on for quality innings. The starting rotation in Chicago is defined by contact. Kyle Hendricks will get the ball on Opening Day, and he has made a career pitching to contact.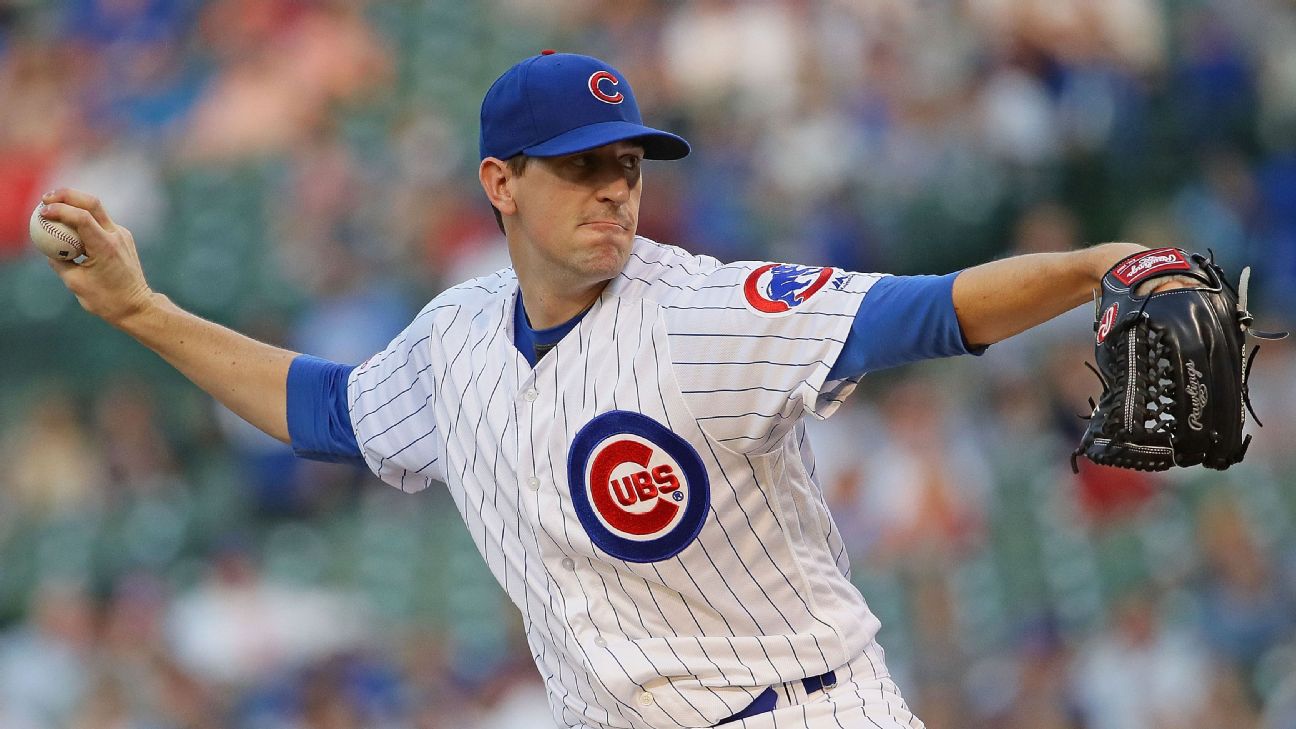 He will top out at 150 strikeouts which is okay because of the Cubs' defense. Although, a lot of balls will be leaving the park when the Cubs are in the field. Jake Arrieta is no longer a number two pitcher at 35 years old.
The bottom of the rotation is even scarier with Zach Davies, Trevor Williams, and Adbert Alzolay. The Cubs' defense will save some runs, but they will not be able to neutralize the overall weakness of the rotation.
Craig Kimbrel will close games if they have any leads in the ninth inning. This is an entirely different pitching staff without Darvish in 2021. I hope the offense is ready to perform…
Tanner's Projection: 80-82
There are too many holes in the rotation and too many questions with the offense for me to be all-in on the Cubbies in 2021.
MORE FROM BASEBALL SPOTLIGHT: If you enjoyed our Cubs 2021 season preview, be sure and check out all of our MLB team and division previews before the 2021 season's first pitch is thrown!
Baseball Spotlight's MLB 2021 Season Team Previews
Baseball Spotlight's MLB Division Preview Series
---
Join our Discord
to leave a question or comment regarding this article. We have sports fans talking betting all day — every day! JOIN THE DISCORD NOW AND QUALIFY FOR PRIZES & BETTING SWAG!
---