Classic Mets Never Fail to Disappoint Mets Fans 
The New York Mets 2021 season has been a season that Mets fans and baseball fans have been excited about. New owner Steve Cohen made a bunch of off-season moves that had left Mets fans itching for the season to start. The Mets' new long-term All-Star, Francisco Lindor, had a great spring training, showcasing his offensive and defensive abilities to the max!
The one aspect of the Mets that fans did not want to see and were not expecting was last night's performance. The Mets played the Philadelphia Phillies in their season opener in a very anticipated series. The Phillies started the season off strong, winning the first three games of the season, but with Matt Moore on the mound going against a promising Mets lineup and Jacob deGrom on the mound, it seemed like an easy dub for New York, but that was not the case. Let's examine how the classic Mets never fail to disappoint Mets fans once again.
Jacob deGrom Outing
Jacob deGrom threw an absolute gem last night against the Phillies. He threw a 6 inning shutout with 7 strikeouts in last night's incredible performance against the Phillies while sitting consistently at 98-99 while also touching 101 at times. Not only did he pitch a fantastic game, but he also helped himself out at the plate. Jacob deGrom went 1-3 with two RBI's in their 5-3 loss.
It was the 31st time in Jacob deGrom's career that he left with the lead, and the Mets cost him a win. This is absolutely unacceptable for the organization and for deGrom himself. We're talking about a future Hall of Fame pitcher here, who should have at least 31 more wins! If the Mets do not stop this trend of not giving him the run support he deserves, this will be a continuum of the bad luck omen Mets fans have dealt with for years. 
Is it no surprise that the Mets leave deGrom hanging like that? Once again, the Mets give their ace no run support resulting in another winless game. It seems that the Mets common trends still have not vanished.
For example, the Mets had numerous at-bats where they were in 0-2 counts in the first two pitches, showing no discipline at the plate. Not only did the Mets not have much discipline at the plate, but it seems as if the Mets always cook things up and get runners in scoring position when there's 2 outs. Why can't the Mets just get back to the basics? Why do the Mets not use Kevin Pillar's speed to lay a bunt down the line for a hit to set up a hit-and-run situation to use Lindor to drive them in ultimately? Thankfully, this was only game 1 out of 162, and there is plenty of room for improvement.
ENJOYING BASEBALL SPOTLIGHT ARTICLES? Click the link here for more MLB news, previews, and updates with Baseball Spotlight!
Luis Rojas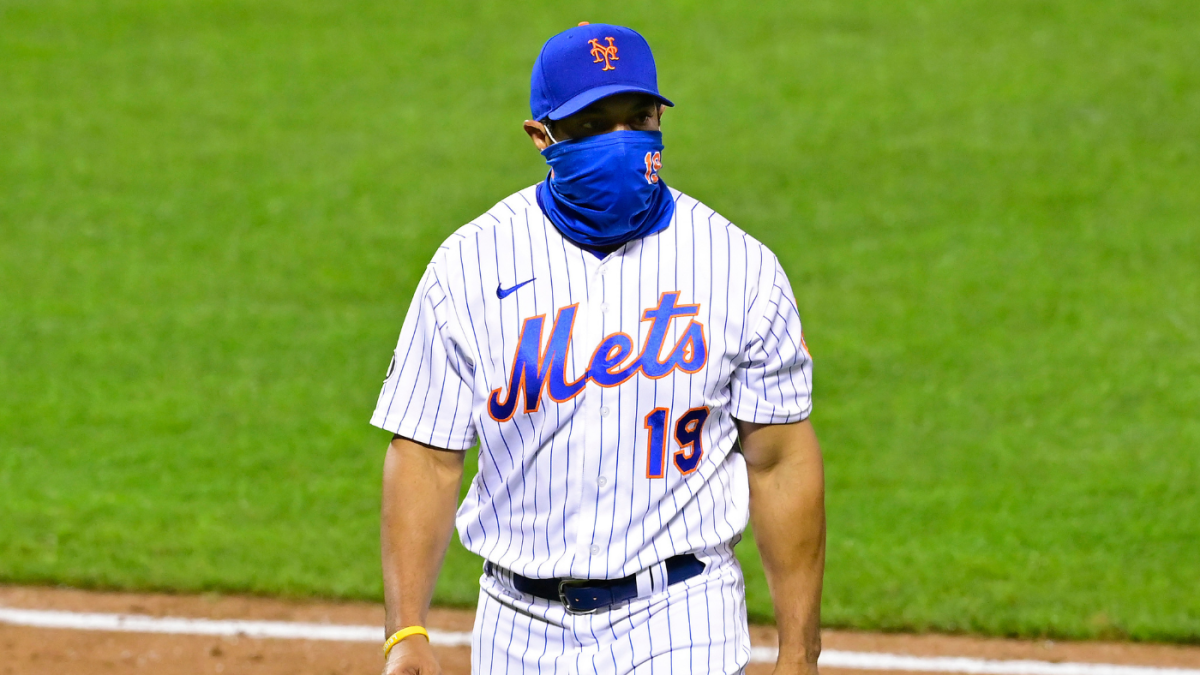 Last night's game certainly raised questions about manager Luis Rojas. Rojas decided to take out deGrom after only 77 pitches. In an interview with SNY and ESPN, Rojas had this to say regarding deGrom's pitch count;
"He hasn't thrown in 10 days; the conversations with him between innings led us to pull him. This is a long season, and it felt like the right decision."
Although Mets fans definitely do not want their two-time Cy Young winner injured at any point in the season, it has to make you think.. How soft is MLB getting? Rojas did say that he wanted deGrom's pitch count to stay at 100 at most, but it makes you think that if he had stayed in the game two more innings before the catastrophic error-filled 8th inning, he could have won the game for the Mets single-handedly. The Phillies lineup was getting nowhere near deGrom, considering that he only gave up three hits all game.
Luis Rojas' questionable moves didn't end there. In the top of the fourth inning, the Mets had the bases loaded when Joe Girardi lifted starter Matt Moore from the game to put in right-hander Brandon Kintzler. It was a perfect time for Rojas to have lefty Dom Smith step up to the plate instead of Kevin Pillar. Smith hits right-handed pitchers pretty well and had a .331 average against right-handers in the 2020 season. 
Moving Forward
As I stated earlier, it is only the regular season's first game. The Mets still have a strong team, and Luis Rojas is still new to the job, as is rookie owner Steve Cohen. Let's hope the Mets can learn from last night's game and start generating runs. The NL East is arguably the most talented division in baseball, and the Mets aren't going anywhere if they keep playing like they did yesterday and allow late inning meltdowns. 
In tonight's second game of the series, Marcus Stroman will be handed the start. 
---
Join our Discord
to leave a question or comment regarding this article. We have sports fans talking betting all day — every day! JOIN THE DISCORD NOW AND QUALIFY FOR PRIZES & BETTING SWAG!
---