April is over, so that means it's time to start talking about the early Cy Young race, right? There is still a lot of baseball that needs to occur before the pitcher of the year is decided, but it's never too early to start having the conversation.
A few pitchers have established themselves in the race after one month of play. It will not be surprising to see two of the names on this list win the top prize for a pitcher at the end of the year.
American League
Early Cy Young Pick #1 | Gerrit Cole, SP, New York Yankees
New York may not be the home of successful clubs at this point, but the Big Apple does include the two best pitchers in baseball in Gerrit Cole and Jacob deGrom. Cole, the King of the Bronx, is the best pitcher in the American League.
He has been fantastic in 2021. The Yankees have struggled, but Cole has not skipped a beat. His dominance was one of the only positives for New York in April.
Cole has started six games and thrown 37.2 innings with 62 strikeouts. He is 4-1 with a 1.43 ERA. If Cole can continue his April dominance over the season, he will win the first Cy Young Award of his career.
Early Cy Young Pick #2 | Shane Bieber, SP, Cleveland Indians
Shane Bieber has pitched against Cole once in 2021, but he was outdueled by the King of the Bronx. Nevertheless, Bieber has been fantastic all season and unhittable in the majority of innings he has thrown.
Bieber is leading the American League in strikeouts and innings pitched. He has tossed 42.1 innings and retired 68 batters on strikes.
Bieber has not been as strong as Cole in the ERA category. The Indian has a 2.76, but he has given his team a chance to win in nearly all his starts.
Early Cy Young Honorable Mentions: Danny Duffy, Tyler Glasnow, John Means, Kyle Gibson
National League
Early Cy Young Pick #1 | Jacob deGrom, SP, New York Mets
Clayton Kershaw is widely regarded as the best pitcher of this generation. I believe this take is currently true, but Jacob deGrom is beginning to take sole possession of this reputation. Watching deGrom pitch is a gift because he is that dominant.
deGrom throws fastballs that rival 100 MPH with breaking balls that appear to be unfair for every hitter he faces.
deGrom is leading the league in ERA with a 0.51, and he has one complete game shutout on the season. Most likely, deGrom will have more of these appearances on his 2021 resume before the season concludes.
deGrom's strikeout ability is what makes the pitcher so special. He has struck out 59 batters in 35 innings of work. His record is 2-2, but do not look at this when judging the pitcher because the Mets have struggled at the plate.
Early Cy Young Pick #2 | Corbin Burnes, SP, Milwaukee Brewers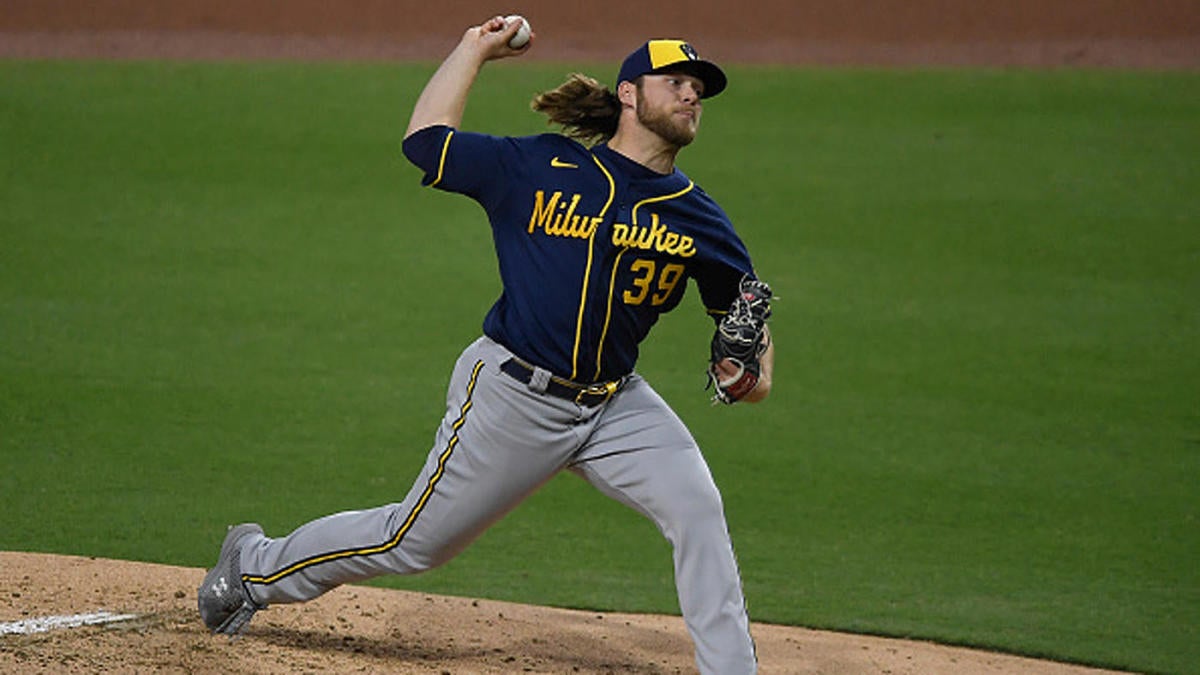 Any pitcher who does not walk a single batter during April deserves to be a Cy Young candidate. Only one starter has achieved this mark, and it's Corbin Burnes. Burnes has been a massive surprise in the National League for the Milwaukee Brewers.
Burnes has recorded 49 strikeouts in 29.1 innings with a 1.53 ERA. Burnes' success has been the biggest surprise on the hill after April. It will be interesting to see if he can keep his name in the running for the Cy Young Award down the stretch. He is currently on the injured list with an undisclosed issue.
Early Cy Young Honorable Mentions: Trevor Bauer, Yu Darvish, Jack Flaherty, Trevor Rogers
Tanner Kern is a writer for Knup Sports and the Sports 2.0 Network. He is the host of Between the Lines, the official show of Baseball Spotlight, and the main contributor for the website. Connect with Tanner on IG @tannerkern and Twitter @tannerkern_. 
---
Join our Discord
to leave a question or comment regarding this article. We have sports fans talking betting all day — every day! JOIN THE DISCORD NOW AND QUALIFY FOR PRIZES & BETTING SWAG!
---