Fernando Tatis Jr. is expected to return to the San Diego Padres lineup on Friday against the Los Angeles Dodgers. Tatis injured his shoulder in an at-bat on April 5th against the San Francisco Giants.
When Tatis fell to the ground in agonizing pain, the air was removed from Petco Park in San Diego. Nobody believed that Tatis would be back in the lineup in less than two weeks because spectators could hear the shortstop screaming from the cheap seats.
However, Tatis' shoulder did not require surgery or an extensive rehab process even though he experienced a partial labrum tear. He will most likely be in the lineup when the Padres host the Dodgers on Friday.
Back on the Field
Padres' manager Jayce Tingler said that Tatis should return to the lineup on Friday or Saturday at the latest against the Dodgers. Tatis was sent to the ten-day injured list, and he is eligible to return on Friday.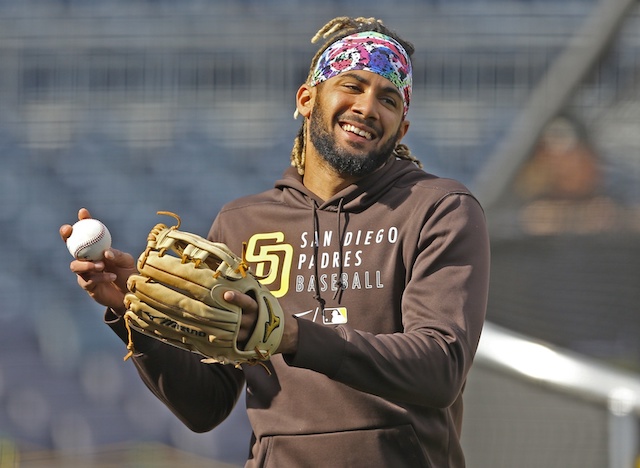 Tatis was seen taking ground balls and participating in batting practice on Tuesday, Wednesday, and Thursday. His pregame warmups' workload increased significantly every day, which is a positive sign for San Diego fans.
There has not been an official announcement that Tatis will be ready to play on Friday.
Long Term Health
If you are concerned about Tatis' health, you should stop worrying. The Padres training staff will not put the Silver Slugger back on the field before he is ready, even if they are facing the reigning World Series champions.
The Padres are paying the shortstop $340 million over the next 14 years, so they will not take a chance on his health.
I think Tatis will need surgery shortly because he has endured shoulder issues since his rookie season. Nevertheless, his shoulder is sturdy enough for him to continue playing in 2021.
The Padres' orthopedic surgeon said that initial labrum tears are not typically fixed with surgery. Surgery enters the discussion when the injuries become compounded.
Slow Start
Tatis injured his shoulder in Spring Training on a routine ground ball, so he entered the season feeling less than 100%. This was evident because his performance in the field and at the plate was horrendous.
Tatis played in five games and took 18 at-bats. He slashed .167/.286/.333 and garnered a strikeout rate of 33.3%
It's common for players to slump at the plate after signing a big contract. Francisco Lindor has been a perfect example of this in 2021, batting .222 without a home run.
Tatis' poor at-bats have not been as concerning as his play at shortstop. He made five errors to start the year, which equated to a .773 fielding percentage. There is no excuse for butchering some of the balls that Tatis did to open the 2021 campaign.
It will probably take some time for Tatis to settle in at the plate, but he will need to fix his fielding performance immediately.
For the Padres to defeat the Dodgers in their opening series, they will need to be outstanding in the field.
Padres 2021 Update
In the Padres' latest series against the Pirates that concluded on Friday, they went 2-2. San Diego did not look good against Pittsburgh, but they have looked solid throughout 2021.
The Padres are in second place in the National League West at 9-5. The Dodgers are leading the division with a 10-2 record.
In the next ten days, the Padres will face the Dodgers seven times, so the division race will begin to unravel shortly. If Tatis returns and is playing as he is capable, San Diego will be able to challenge Los Angeles.
Follow me on IG @tannerkern and Twitter @tannerkern_ for game previews, betting analysis, and the best stories from the sports world. Check out my baseball show, Between the Lines, every Sunday at 6:00 PM ET. Make sure and keep up with the Sports 2.0 Network, Sports 2.0 Twitter, Basketball Articles, Baseball Spotlight, and  Knup Sports for all of my latest content and best takes from around the sports and sports betting world as well!!
---
Join our Discord
to leave a question or comment regarding this article. We have sports fans talking betting all day — every day! JOIN THE DISCORD NOW AND QUALIFY FOR PRIZES & BETTING SWAG!
---