If you were not already aware, J.D. Martinez is back.
On Monday, MLB announced its Players of the Week, and J.D. Martinez took home the award in the American League. This is no surprise, considering the designated hitter has been leading the hit parade in Boston since Opening Day.
Martinez has been wearing a Red Sox uniform since 2018 and he will be with the team until at least 2023. He has been the most consistent bat in the lineup, until 2020. However, the slugger is back tormenting pitchers in 2021.
Martinez in 2020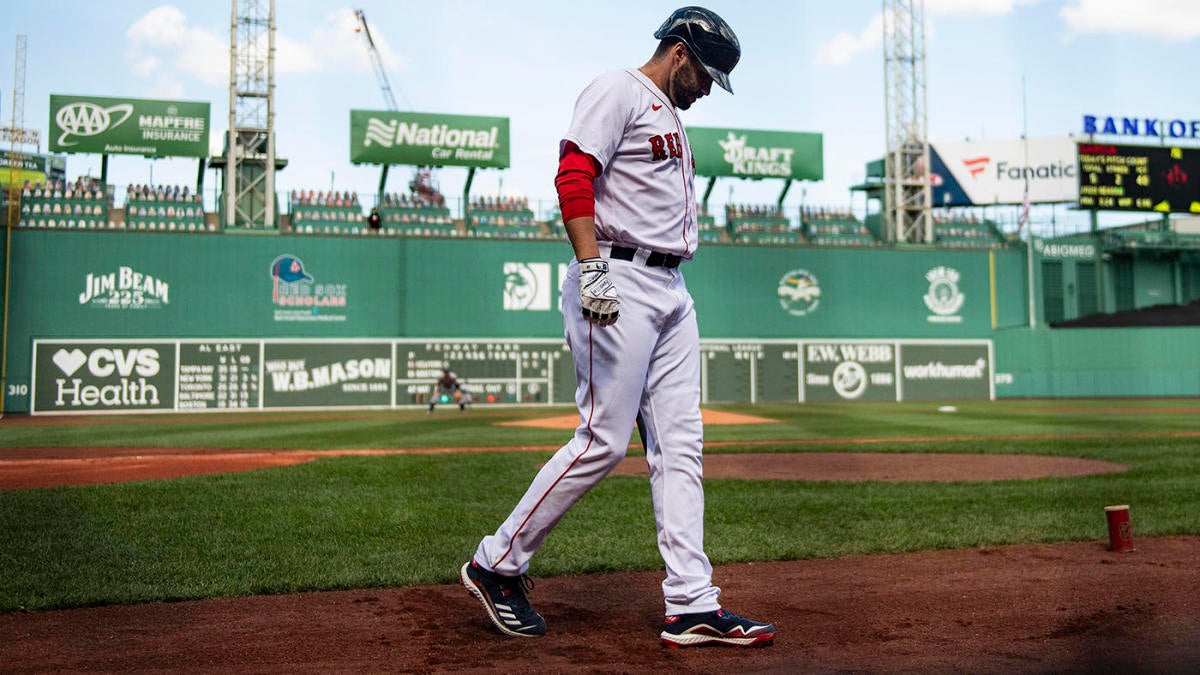 Martinez looked like he forgot how to hit a baseball in 2020. Slumps were a recurring theme throughout the shortened slate last season, and J.D. Martinez epitomized this in the stat sheet.
The Red Sox were horrendous in 2020, and Martinez's lack of production was a primary reason for their failures. Martinez slashed .213/.291/.389 in 54 games.
Martinez has averaged 35 home runs since he debuted in the show in 2011. He hit seven last year, which would have equated to 18.9 over 162 contests.
I could name every statistic from 2020 attributed to J.D. Martinez, and they would all depict the same narrative. The three-time Silver Slugger was terrible last season.
Over His Career
2020 did not define J.D. Martinez because he has been exceptional in his eleven-year career. Martinez is a career .292 hitter with an on-base percentage of .355.
He has blasted 243 bombs and driven in 753 runs in 1,130 career games. These numbers have helped Martinez make three All-Star teams, three Silver Sluggers, and win a World Series with the Red Sox in 2018.
Martinez is Back in 2021
Martinez has only played in eight games this season, but there is a clear difference in his swing. He looks confident at the plate, which is crucial for a hitter to attain success.
In 2020, I did not see J.D. Martinez swing the bat once like he has done consistently in the first two weeks of 2021.
The Orioles swept the Red Sox in the first series of the year. They have done nothing but trend upward since Baltimore handed them three straight losses.
The only positive that came from the first series of the year was J.D. Martinez. The three-time All-Star has not stopped delivering since he stepped into the box on April 1st.
Martinez is currently leading the league in hits (17), doubles (7), total bases (39), RBIs (16), and home runs (5). His slash line is .472/.500/1.083, and he has scored ten runs on the year.
He has been the main sign of offense in Boston, and it does not look like he is planning on stopping anytime soon.
Martinez is back, and there is no denying this fact.
J.D. Martinez Wins American League Player of the Week
Martinez has been acknowledged as the American League Player of the Week for the week of April 5th. Martinez's stats speak for themselves, but he also etched his name into MLB record books to cap off his award-winning week.
On Sunday, he hit three home runs against the Orioles, which made him the 25th player in Red Sox history to achieve such a feat. He also became the fifth player in MLB history to have a three home run game with three separate squads.
Welcome back, J.D. Martinez. Baseball is happy to have you mashing once again.
Follow me on IG @tannerkern and Twitter @tannerkern_ for game previews, betting analysis, and the best stories from the sports world. Check out my baseball show, Between the Lines, every Sunday at 6:00 PM ET. Make sure and keep up with the Sports 2.0 Network, Sports 2.0 Twitter, Basketball Articles, Baseball Spotlight, and  Knup Sports for all of my latest content and best takes from around the sports and sports betting world as well!!
---
Join our Discord
to leave a question or comment regarding this article. We have sports fans talking betting all day — every day! JOIN THE DISCORD NOW AND QUALIFY FOR PRIZES & BETTING SWAG!
---