"I don't think I am better than anybody, but nobody is better than me."
Juan Soto said this quote in January of 2020. If you read this transcription fast, it may not make sense, so let me clarify the context.
Soto's humility has allowed him to climb to the top of baseball at 22 years old, but he does not take any opportunity for granted. The Silver Slugger does not overlook any competition that he faces, and it has been evident on the field over the past three seasons.
Juan Soto continues to amaze baseball, and he is not slowing down. The ceiling on Soto is higher than Mike Trout. I know this is a bold statement, but I would not make this claim if I did not think the outfielder had the ability and work ethic.
Juan Soto: Humble Beginnings
Soto was signed as an international free agent in July of 2015 at 16 years old. The outfielder made his way through the Minor League rapidly and racked up countless accolades along the way.
He was named the Gulf Coast League MVP in 2016 as a 16-year-old. His five-tool ability caused the Nationals to move him through the farm system at a rapid pace for anyone, let alone a kid who was barely old enough to have a license.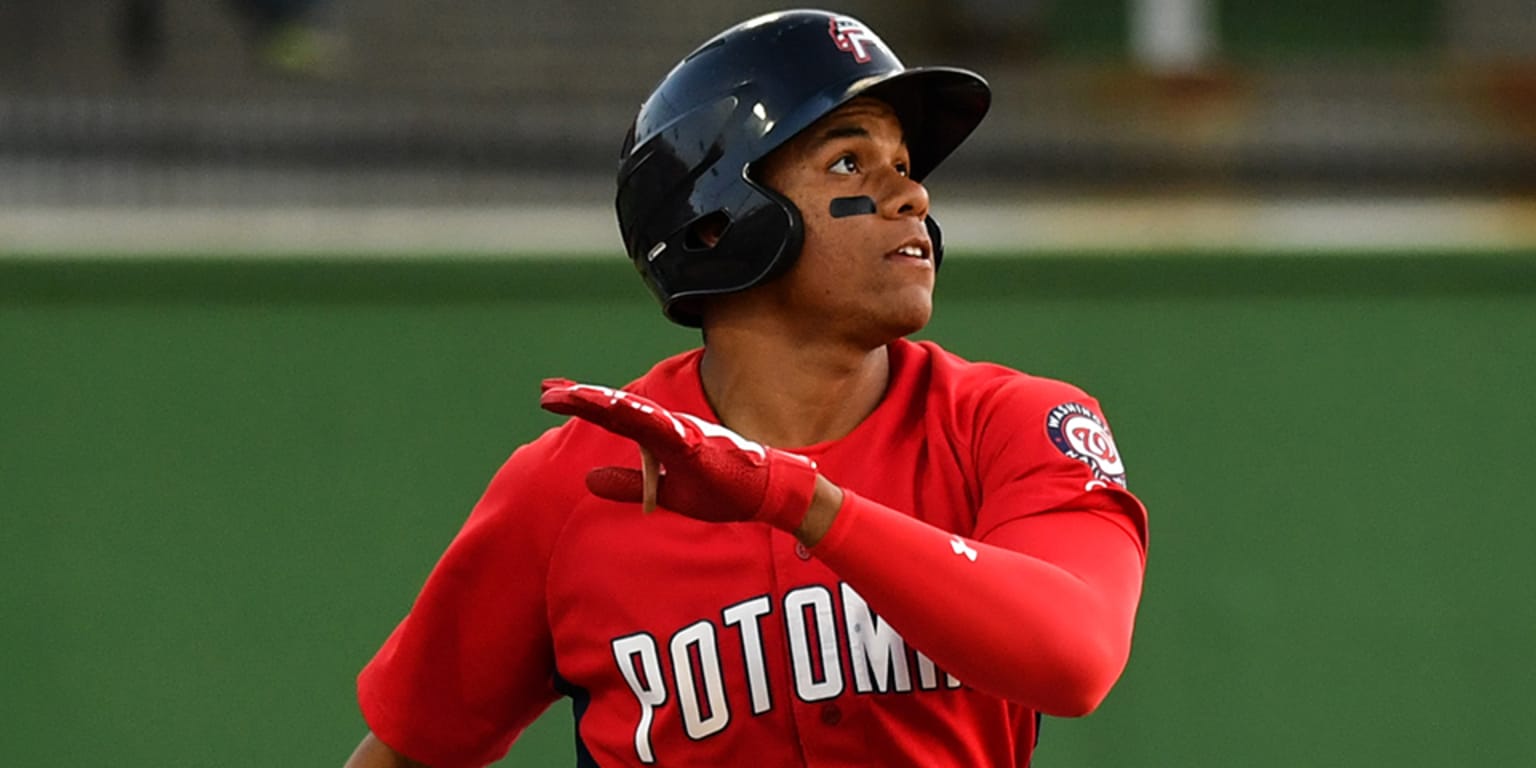 Soto entered 2018 as one of the top MLB prospects because of his hard work in the Minor League. He started the 2018 season in Single-A and was called up to Double-A with the Harrisburg Senators after 15 games.
He played in eight games for the Senators and batted .323 with two home runs and ten RBIs. The Nationals knew they had to bring Soto to the show, and the outfielder received the call.
Juan Soto: The Debut
Soto made his debut on May 20, 2018, against the Los Angeles Dodgers in a pinch-hit at-bat. Soto did not get a hit, but he earned his start, and that was all he needed.
Soto slashed .292/.406/.517 with 22 home runs and 70 RBIs as a rookie. He finished second in the Rookie of the Year voting behind Ronald Acuna Jr., but Soto was still fantastic.
Juan Soto: No Longer a Rookie
Soto has never shown his age on the big-league field. The player is just 22 years old, and he looks like a seasoned veteran.
Soto followed up his massive rookie year with 34 home runs in 2019. He also played a critical role in leading the Nationals to a World Series victory over the Houston Astros.
There was never a spot that seemed too big for Soto as a 20-year-old in the playoffs. Soto broke out in 2020, winning the National League Batting Title and his first Silver Slugger Award.
He led the league in nearly every statistical category, batting .351 with a .490 on-base percentage. Soto only played in 47 games out of the sixty-game slate, but it was evident that he was the best hitting left fielder in the National League.
The young star has looked locked into the plate to start the 2021 campaign. The future is extremely bright, and I cannot wait to see Soto's potential turn into even more production.
According to MLB Insider Hector Gomez, Juan Soto has the sixth highest on-base plus slugging in his first 326 games all-time at .415. The highest on the list is Frank Thomas, and he is followed by Ted Williams, Jimmie Foxx, Wade Boggs, and Stan Musial.
Every one of these athletes is enshrined in Cooperstown. Mike Trout, the best player in the game today, had an OBP of .406 after 326 outings ranking him three spots behind Soto.
Trout may be old news very soon with Soto rising through the ranks…
Tanner Kern is a writer for Knup Sports and the Sports 2.0 Network. He is the host of Between the Lines, the official show of Baseball Spotlight, and the main contributor for the website. Connect with Tanner on IG @tannerkern and Twitter @tannerkern_.
---
Join our Discord
to leave a question or comment regarding this article. We have sports fans talking betting all day — every day! JOIN THE DISCORD NOW AND QUALIFY FOR PRIZES & BETTING SWAG!
---