In our Baseball Spotlight Los Angeles Dodgers 2021 season preview, we take a look at everything from last season to projections for the 2021 season. Let's get started!
The weight has officially been lifted off the Dodgers' shoulders following their 2020 World Series victory. If you think the Dodgers World Series Championship was a fluke last season, you are wrong.
The Dodgers would have won the World Series in a 60-game season, a 162-game season, or a 500-game season! The Dodgers are at the top of everyone's list to win the World Series again in 2021. They are the gold standard of professional baseball.
Teams are no longer focused on winning their respective divisions. Front offices are asking, "How can we beat the Dodgers?"
2020 Regular Season Record: 43-17 (.717)
NL West Finish: 1st
Postseason: Won the World Series over the Tampa Bay Rays in five games
2021 Projection: 104-58
NL West: 1st
Projected Opening Day Roster
Starters
C: Will Smith 
1B: Max Muncy 
2B: Gavin Lux 
3B: Justin Turner
SS: Corey Seager 
OF: Mookie Betts 
OF: Cody Bellinger
OF: AJ Pollock 
Bench 
C: Austin Barnes 
IF: Edwin Rios, Matt Beaty
OF: Chris Taylor 
Starting Pitchers
RHP: Walker Buehler, Trevor Bauer
LHP: Clayton Kershaw, David Price, Julio Urias 
Bullpen 
RHP:  Kenley Jansen (C), Blake Treinen, Brusdar Graterol, Joe Kelly, Tony Gonsolin, Dustin May
LHP: Corey Knebel, Victor Gonzalez
Dodgers 2021 Season Preview
The Los Angeles Dodgers are looking to repeat as World Series Champions in 2021. A team has never gone back-to-back, so the Dodgers do not have history on their side. However, if any team can win two in a row, it's the 2021 Los Angeles Dodgers.
The club added the reigning Cy Young Award winner in Trevor Bauer to an already loaded rotation. Offensively, you will have trouble finding a better team than Los Angeles with Mookie Betts, Corey Seager, Justin Turner, and Cody Bellinger.
The only thing that will stop the Dodgers in 2021 is themselves because this club is the best in baseball.
The Lineup
I could write a novel on the Dodgers lineup because of the talent one through eight. The bottom of Los Angeles' lineup mashes, and that is something that you do not frequently see in baseball today.
Mookie Betts will lead off for the Dodgers. His addition in 2020 helped Los Angeles get over the hump and win the World Series. Betts is a Platinum Glove recipient, a four-time Gold Glove winner, a four-time Silver Slugger, and a former MVP.
Last season, Betts finished second in the NL MVP vote batting .292 with 16 home runs. His offensive and defensive play earned him a Silver Slugger and the Gold Glove Award. Sweeping both these accolades is typical for Betts, and anything but this is considered a bad season.
Corey Seager, the 2020 World Series MVP, will bat second. Seager is a free agent next season and will most likely receive a massive deal. Seager is an underrated player at shortstop, but his numbers prove that he is one of the league's best.
Seager is a two-time All-Star and Silver Slugger recipient. In 2020, he finished ninth in the MVP vote. Justin Turner and Max Muncy will follow Seager. Turner is reputable, but he is not a star on this team, in my mind.
Between Turner and Muncy, the Dodgers should acquire over 50 home runs in 2021. The best overall hitter on the Dodgers is Cody Bellinger. He is a five-tool player who is only 25 years of age.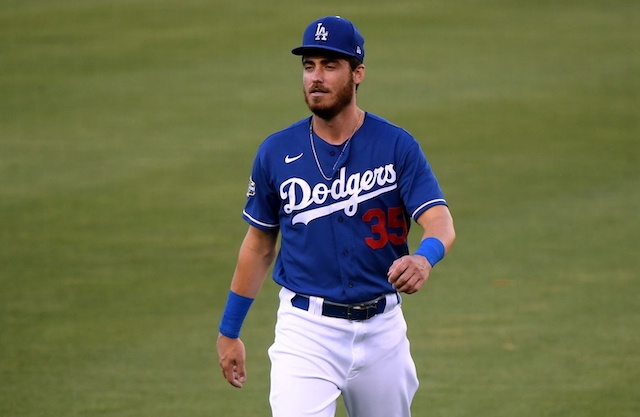 Bellinger has not hit his prime, and he has won an MVP, Gold Glove, Silver Slugger, and has made two All-Star rosters. Bellinger had a down year in 2021, but expect him to bat .270 with 35 bombs in 2021.
The bottom of Los Angeles' order is better than many teams top in the MLB. The last spots will consist of Will Smith, AJ Pollock, and Gavin Lux. The Dodgers should get close to 70 home runs between these three players and an OBP of .330.
I love Will Smith behind the plate. He is one of the best young players in baseball. He is my second-ranked catcher in the National League, and he is only 26 years old.
The Dodgers can win with defense and hitting with their roster. This is the most outstanding group of position players in baseball.
The Pitching Staff
What if I told you that a team had three former Cy Young winners in their starting rotation? That sounds too good to be true, but the Dodgers found a way to make it happen when they inked Trevor Bauer to a three-year deal worth $102 million.
Bauer is the bad boy of the MLB, but he can pitch. Last season, Bauer posted a 1.73 ERA with two complete-game shutouts. He struck out 100 batters in 73 innings, which is phenomenal. He will join Clayton Kershaw and David Price as Cy Young winners in Los Angeles' rotation.
Clayton Kershaw is arguably the greatest pitcher of this generation. I think he still has a few more strong years in the tank after winning his first World Series ring last season. Kershaw has won three Cy Youngs and has been the ERA champion on five separate occasions.
David Price opted out last season, and it seemed like his career had been trending downward in his final seasons with Boston. Price has displayed many quality innings over the years, but questions are surrounding him entering 2021.
The Dodgers also have a future Cy Young winner who is the next Clayton Kershaw in Los Angeles. His name is Walker Buehler, who went 14-4 in 2019 with 215 strikeouts. Expect a huge year out of Buehler as he continues to establish himself as a future ace in Los Angeles.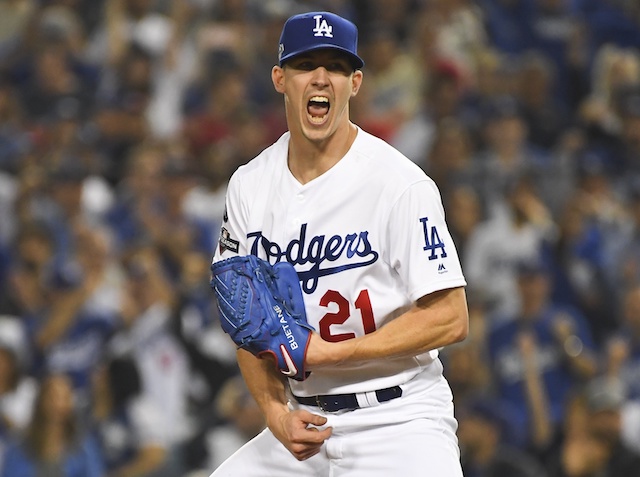 The bullpen is slightly concerning when you look at the Dodgers' pitching staff. Kenley Jansen is expected to close for the team. He has shown some flaws, especially in the 2020 postseason.
His velocity is concerning for a closer, as he is barely toughing 92 in many cases. If he misses his spots, the ball is leaving the yard more times than not. If Jansen does not produce, Brusdar Graterol should be given the opportunity to close games for the Dodgers.
Graterol is a youngster who is touching 100 mph on the radar gun. He is the future closer in Los Angeles once Kenley Jansen retires or is traded. Blake Treinen, Dustin May, and Tony Gonsolin should be given several innings out of the bullpen.
The Dodgers bullpen is not bad, but it's the weakest spot on a team that resembles an All-Star squad.
Tanner's Projection: 104-58
San Diego, who? Forget about the Padres in the National League West. The Dodgers will reign supreme once again.
MORE FROM BASEBALL SPOTLIGHT: If you enjoyed our Dodgers 2021 season preview, be sure and check out all of our MLB team and division previews before the 2021 season's first pitch is thrown!
Baseball Spotlight's MLB 2021 Season Team Previews
Baseball Spotlight's MLB Division Preview Series
---
Join our Discord
to leave a question or comment regarding this article. We have sports fans talking betting all day — every day! JOIN THE DISCORD NOW AND QUALIFY FOR PRIZES & BETTING SWAG!
---