A journeyman is a worker or sports player who is reliable but not outstanding. If you have watched the Dodgers since 2018, you have heard the term journeyman regarding Max Muncy.
However, Muncy is no longer a journeyman. They have shattered this reputation and become franchise players in Los Angeles, one of the most demanding markets in baseball.
It's not easy to go from a journeyman to a team leader, but Max Muncy has found a way to do the unthinkable.
Max Muncy Journey to Stardom
Muncy was a 41st round pick in the MLB Amateur Draft in 2009 out of high school, but he chose to attend Baylor University. This helped his stock, and he was able to improve to a 5th round pick in 2012 by the Oakland Athletics.

Muncy made it through multiple Minor League stints to reach the show in 2015 as a 24-year-old. There were high hopes for Muncy in Oakland, but he did not deliver when he received the call.
In his first two seasons with the A's, he batted .195 with an on-base percentage under .290. Muncy was released in 2017 by the A's because of his production, but the first baseman did not quit.
He signed a Minor League contract with the Los Angeles Dodgers on April 27, 2017, beginning the season in Triple-A with Oklahoma City. In 109 games, he hit .309 with 12 home runs and 44 RBI.
Spending the season in Triple-A allowed Muncy to regroup and find a new mindset. Muncy spoke to the media ahead of his return to Oakland for the first time as a Dodger earlier this season.
"The biggest difference, and I talk about this all the time, is just who I am mentally as a person. I was a lot different back then. I've grown a lot, made a lot of changes. I'd almost say I'm more of a kid now, going out there and having fun on the field."
Since Muncy was called up, he has compiled a .380 OBP, averaging 40 home runs with 97 RBI per 162 games with Los Angeles. These numbers earned him a ticket to the All-Star game in 2019.
He is currently leading the league in walks with 45 and OBP at .424. Muncy would not have traded his adventure from journeyman to All-Star for anything in the world.
"It's kind of a tough thing to go through, but it's one of those things that you're thankful happened, because it's the reason you are the person you are today."
Max Muncy Has Led the Charge in 2021
The Dodgers have been plagued by injuries and slumps this season. The team is only three games back in the National League West despite the heaps of adversity they have handled.
Mookie Betts has not played like an MVP. Cody Bellinger returned for the first time since the beginning of April with a shin fracture, and Corey Seager broke his hand last month.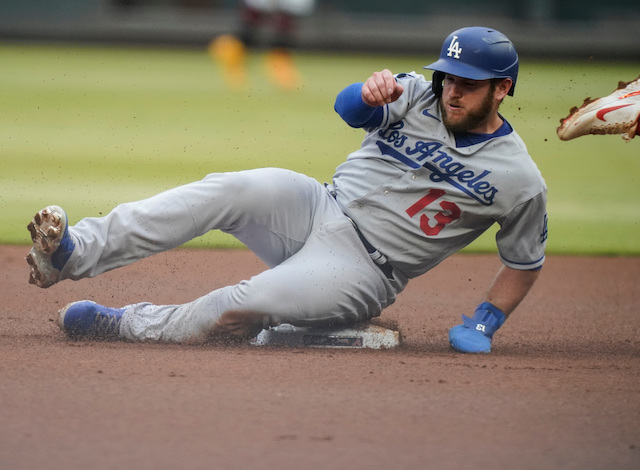 The robust Los Angeles has turned into a slightly above average attack. The Dodgers payroll does not resemble an offense that is 12th in batting average.
If it were not for Max Muncy and his teammate Chris Taylor, who has also shattered the journeyman reputation, Los Angeles would be in a much deeper hole currently.
When the team has needed a big hit or a baserunner, Muncy has delivered. Journeymen typically maintain the reputation throughout their careers, but the All-Star has transformed his reputation into a Los Angeles headliner, and he is not done yet.
"It's pretty special just to know I've grown so much, I've changed a lot, and I'm able to go out and enjoy things a lot easier than I used to. For me, that's pretty cool. But as a baseball player, it's kind of hard for me, because I try to move forward each day and not look back."
Tanner Kern is a writer for Knup Sports and the Sports 2.0 Network. He is the host of Between the Lines, the official show of Baseball Spotlight, and the main contributor for the website. Connect with Tanner on IG @tannerkern and Twitter @tannerkern_.
---
Join our Discord
to leave a question or comment regarding this article. We have sports fans talking betting all day — every day! JOIN THE DISCORD NOW AND QUALIFY FOR PRIZES & BETTING SWAG!
---