The best pitcher in baseball since 2013 has been Max Scherzer. The numbers and accolades prove this fact.
Scherzer has made the All-Star team every year since 2013, and he has won three Cy Young Awards. His dominance helped carry the Washington Nationals to the 2019 World Series title.
In 2015, the pitcher began a seven-year deal with Washington that was worth $191.4 million. Scherzer is 36 years old, and it's unlikely that he will resign with the Nationals in 2022, so he could be excellent trade bait for the franchise.
The State of Nationals Baseball
Max Scherzer cannot save the Nationals in 2021. Games have only been occurring for just over three weeks, but Washington does not look like a championship contender.
In no way am I saying that they will not get hot, but the franchise has started with a 7-9 record, and they are playing in the best division in baseball.
I do not think Washington will be in the championship conversation in the fall, so they could help their franchise in the future if they elected to trade Scherzer.
If the Nationals are in the running at the deadline, they will not trade Scherzer, but I have a feeling that they will be down for the count.
Max Scherzer's Contract
Scherzer will become a free agent at the end of the season, and he has full no-trade rights because of his tenure in the league. He can veto any trade that arises if he wants to stay in Washington, but the pitcher is a competitor.
I do not think he will want to stay with a team that's fading away down the stretch. If Scherzer gets the chance to contend for a World Series with a powerful franchise, he will leave.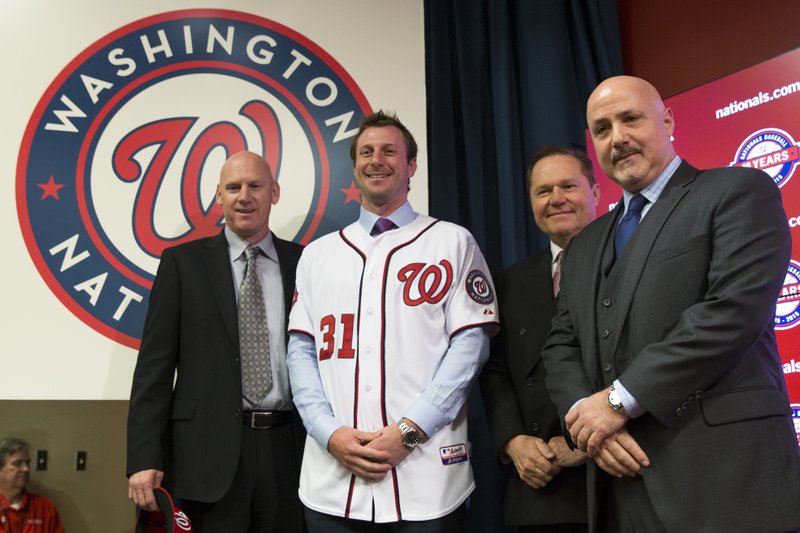 Scherzer will turn 37 in the summer, so his opportunities at another ring are beginning to dwindle. Mad Max is still pitching at a high level, but age is a factor that eventually defeats the best ballplayers.
The trade deadline is July 30th at 4:00 PM ET. Scherzer is slated to make $35 million in 2021, so a team would have to pay just under half of this contract if they acquired the former All-Star.
Possible Teams for Max Scherzer
$12 to $15 million is not a tiny figure for many teams in the show, especially in a season where finances are impacted by COVID-19. This eliminates many teams who could use Scherzer in the dog days of summer.
Here are three teams who could use Max Scherzer.
New York Yankees
The Yankees need another wing, and Scherzer would be the perfect fit. New York has been worse than Washington to start the year, but they will get hot.
The stars on this team are too good to slump all season. The Yankees have Gerrit Cole, but they are limited in the back end of the rotation. Mad Max would add a lot of depth to a potentially devastating lineup.
St. Louis Cardinals
The Cardinals have an inconsistent offense, but they have performed well at times in 2021. The National League Central is a wide-open race, and Scherzer would give St. Louis a massive advantage.
St. Louis is using Adam Wainwright as their number two pitcher, which is problematic. They need a strong wing, and Scherzer would be the perfect fit. It also would not be surprising to see them target Trevor Story to join forces with his buddy, Nolan Arenado.
Los Angeles Angels
The Angels have the best player in baseball, Mike Trout, on their roster. Trout's presence does not mean much with the worst rotation in baseball. The Angels needed to get a pitcher in the offseason.
Los Angeles' front office elected not to sign a necessary quality starter, so Scherzer could be a good fit at the deadline. That is if the Angels are still in the playoff picture…
Final Thoughts on Max Scherzer at the Deadline
A couple of things need to happen for Scherzer to depart at the deadline. Washington's playoff hopes need to be minimal, and a deal needs to transpire.
However, if Scherzer is traded, I think he will leave Washington without hesitation to pursue his second World Series Championship.
Tanner Kern is a writer for Knup Sports and the Sports 2.0 Network. He is the host of Between the Lines, the official show of Baseball Spotlight, and the main contributor for the website. Connect with Tanner on IG @tannerkern and Twitter @tannerkern_.
---
Join our Discord
to leave a question or comment regarding this article. We have sports fans talking betting all day — every day! JOIN THE DISCORD NOW AND QUALIFY FOR PRIZES & BETTING SWAG!
---