In our Baseball Spotlight Milwaukee Brewers 2021 season preview, we take a look at everything from last season to projections for the 2021 season. Let's get started!
The Milwaukee Brewers are coming off a very disappointing season in the sense that they could have been so much better. They still made the playoffs with a 29-31 record as the second Wild Card team in the National League.
The Dodgers swept the Brewers in the National League Wild Card Series. The Brewers have made the postseason for three straight years, but last season left a sour taste in the Brew Crew's mouth. I think the Brewers will be better in 2021, but they will have a tough time winning in the postseason.
2020 Regular Season Record: 29-31 (.483)
NL Central Finish: 4th
Postseason: Swept by the Dodgers in NLWCS
2021 Projection: 85-77 (.525)
NL Central: 1st
Projected Opening Day Roster
Starters
C: Omar Narvaez
1B: Keston Hiura
2B: Kolten Wong
3B: Travis Shaw
SS: Luis Urias
OF: Christian Yelich
OF: Lorenzo Cain
OF: Jackie Bradley Jr.
Bench 
C: Manny Pina
IF: Daniel Vogelbach, Orlando Arcia,
OF: Avisail Garcia, Billy McKinney
Starting Pitchers
RHP: Brandon Woodruff, Corbin Burnes, Adrian Houser, Freddy Peralta
LHP: Brett Anderson
Bullpen 
RHP: Devin Williams, J.P. Feyereisen, Eric Yardley, Drew Rasmussen, Ray Black, Josh Lindblom
LHP: Josh Hader (C), Brent Suter
Brewers 2021 Season Preview
The Brewers should make the postseason for the fourth straight year in 2021. The National League Central is a wide-open division, but Milwaukee seems to be in better shape than many teams.
If the Brew Crew performs as they are capable, this team could surprise the league. However, if Milwaukee plays as they did in 2020, it could be another long season for the franchise.
The Lineup
The Milwaukee Brewers lineup circulates around one player: Christian Yelich. Yelich was the biggest disappointment of 2020. The former MVP made $12.5 million last year, and he had a wins above replacement of 0.5.
If you are familiar with WAR, you know that Yelich did not bring too much to the table. He only accounted for one-half of a win more than a bench player would have provided the team.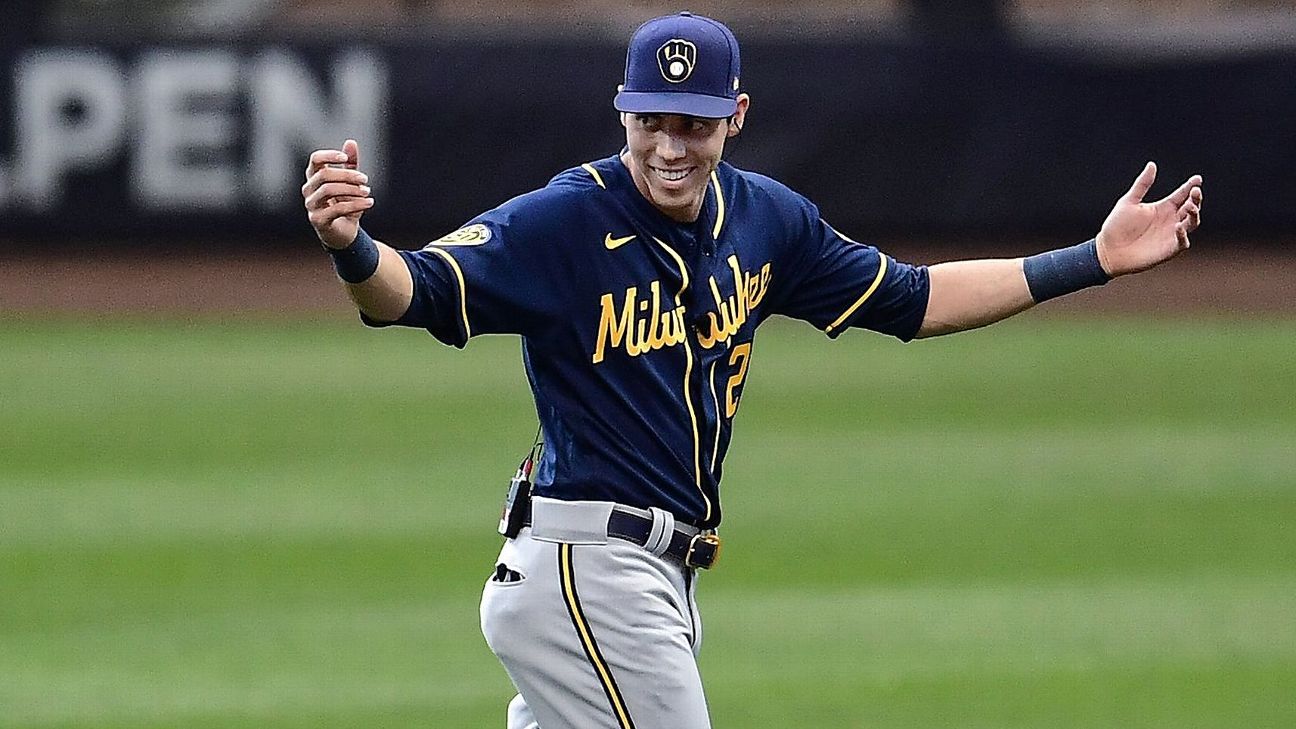 2020 was an uncharacteristic statistical season for the 29-year-old outfielder. In 2018 and 2019 combined, Yelich batted .327 with 80 home runs. In the 60-game slate, he batted .205 and had a 30.8% strikeout rate, which is 10% higher than his typical number.
Yelich must bounce back and carry the load for the Brew Crew. There is no other option for the Silver Slugger if he wants to win because he is the centerpiece of this franchise.
Jackie Bradley Jr.'s addition during Spring Training will take a little pressure off of Yelich's back. Bradley has a career on-base percentage of .321, so he should help the team at the bottom of the order.
Bradley Jr. is a former All-Star and Gold Glove recipient. His defense is better than his offense, but his overall presence is a blessing for Milwaukee.
Keston Hiura joined Yelich in the slump department in 2020. Hiura's line was 212/.297/.410 compared to .303/.368/.570 in 2019.
Hiura is a player who could hit 30 home runs and with a .330 on-base percentage. Yelich and Hiura are the two primary pieces to the Brew Crew's winning puzzle.
The Pitching Staff
I usually do not start with the relievers, but it's necessary with Milwaukee. If you do not know the name Josh Hader, learn it right now. Hader is a top-three closer in baseball, but he was not the best reliever on the team last season.
This fact is shocking, but it will probably not be the case in 2021. Devin Williams was the team's star in his first big league campaign. The 26-year-old won the Rookie of the Year Award for his .33 ERA and 57 strikeouts in 27 innings of work.
Williams was flawless in 2021 to a point where it can be duplicated. Expect him to cool down but still put in great innings out of the bullpen.
Brandon Woodruff will be the team's Opening Day starter. Woodruff has four years of experience, but this will be his second 162-game campaign as a starter if he stays injury-free. In 2019, he was an All-Star with a 3.62 ERA and 143 strikeouts.
Woodruff should throw 180 innings, and Corbin Burnes will follow him. Burnes is another talented pitcher who finished sixth in the Cy Young Award voting in 2020.
He went 4-1 with a 2.11 ERA and 88 strikeouts in 59.2 innings on the hill. Pitching won games for this team last year, and it worked because of the shortened season.
The pitching should be efficient in 2021, but the bats must come alive in Milwaukee for the team to do more than just win the division.
Tanner's Projection: 85-77
Christian Yelich and Keston Hiura will be much improved in 2021. When this is combined with a solid starting rotation and bullpen, nobody will take down the Brewers in the National League Central.
MORE FROM BASEBALL SPOTLIGHT: If you enjoyed our Brewers 2021 season preview, be sure and check out all of our MLB team and division previews before the 2021 season's first pitch is thrown!
Baseball Spotlight's MLB 2021 Season Team Previews
Baseball Spotlight's MLB Division Preview Series
---
Join our Discord
to leave a question or comment regarding this article. We have sports fans talking betting all day — every day! JOIN THE DISCORD NOW AND QUALIFY FOR PRIZES & BETTING SWAG!
---