In our Baseball Spotlight Oakland Athletics 2021 season preview, we take a look at everything from last season to projections for the 2021 season. Let's get started!
The Oakland Athletics ran away with the American League West in last season's 60 game schedule. Oakland won the division by seven games in 2020, but they did not win when it counted. The Astros knocked out the A's in the American League Division Series.
The A's are not as talented as they were in 2020 on paper. However, Oakland got limited production from some of their best players last season, including Matt Chapman and Matt Olson. These players should bounce back in 2021, but the starting rotation is concerning, and the bullpen is slightly down relative to last year.
2020 Regular Season Record: 36-24 (.600)
AL West Finish: 1st
Postseason: Lost to the Astros in the ALDS
2021 Projection: 84-78 (.519)
AL West: 3rd
Starters
C: Sean Murphy
1B: Matt Olson 
2B: Anthony Kemp 
3B: Matt Chapman 
SS: Elvis Andrus 
OF: Ramon Laureano 
OF: Mark Cahna 
OF: Stephen Piscotty 
DH: Mitch Moreland 
Bench 
C: Aramis Garcia
IF: Chad Pinder, Vimael Machin 
OF: Ka'Ai Tom 
Starting Pitchers
RHP: Chris Bassitt, Frankie Montas, Mike Fiers
LHP: Jesus Luzardo, Sean Manaea
Bullpen 
RHP: Trevor Rosenthal (C), Sergio Romo, Yusmeiro Petit, J.B. Wendelken, Lou Trivino
LHP: Jake Diekman, Adam Kolarek, Nik Turley 
Athletics 2021 Season Preview
The Oakland Athletics are no longer the best team in the American League West. The AL West is not a great division in 2021, so do not be surprised if the Athletics make a run in the division. However, they will have to play great to take down Houston after the Astros inked Jake Odorizzi.
The Athletics are at the top of the division when it comes to hitting. However, their pitching staff is thin heading into the season. This is not surprising because of the way the Oakland front office runs this team.
Oakland attempts to win without spending a lot of money, and they are one of the best teams in baseball at prospering on a low payroll. I just do not believe that Oakland has enough to claim a division title. If Oakland does not win the division, they will not be playing in October.
The Lineup
Matt Chapman and Matt Olson must be complete hitters in 2021 to lead the A's in the division. Matt Chapman and Matt Olson are both coming off down years last season. Chapman only had an on-base percentage of .276, and Olson hit .195 in 2020.
These hitters are known for the long ball, but they need to be selective at the plate and get on base. Chapman and Olson are projected to hit .244 and .238, respectively in 2021. For the A's to have an authoritative offensive attack, these two will need to hit closer to .265.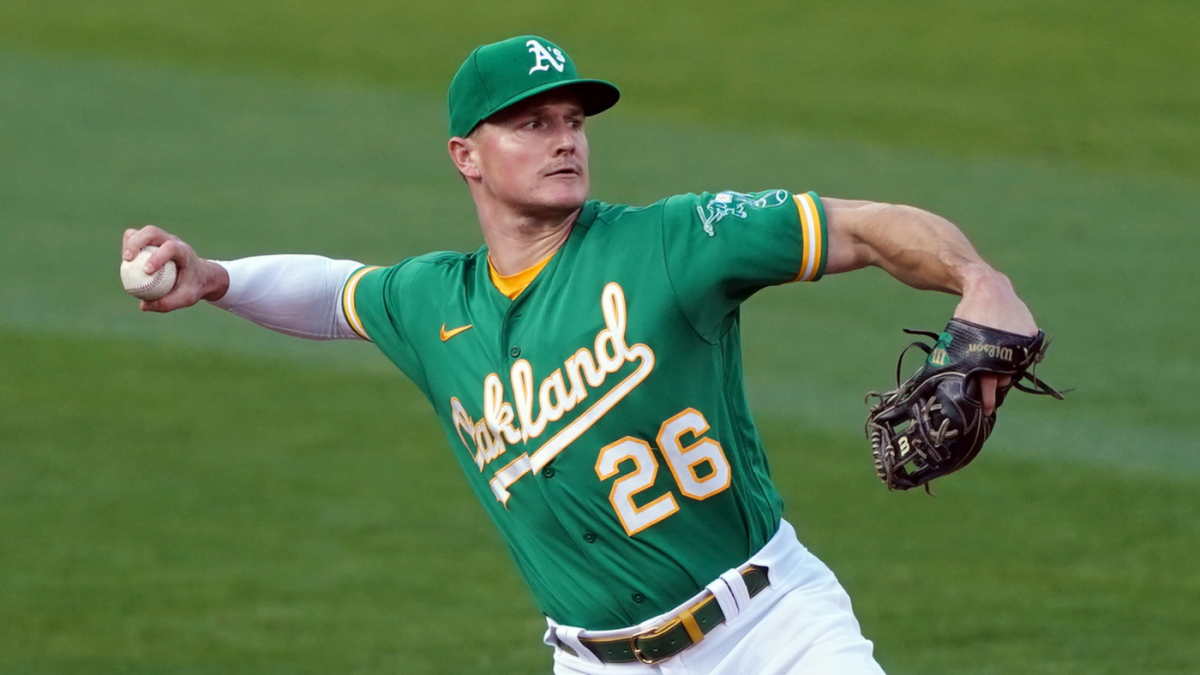 If Chapman and Olson do not hit, the A's could find themselves at the bottom of the American League West. When you look at Oakland's lineup, there are no complete hitters on the team. Walks are going to be critical for the entire Oakland lineup.
Another key player in the Oakland lineup is Stephen Piscotty. Piscotty will be responsible for the majority of the offense at the bottom of the order. I expect Piscotty to hit .240. If he limits his strikeouts, he could be the difference-maker for the Athletics.
When Piscotty gets on base, it will help bring the top of the order to the plate, which is critical for Oakland's success. Everyone in Oakland is talking about Matt Chapman, Matt Olson, and Stephen Piscotty.
Everyone should be talking about the signing of Mitch Moreland. Mitch Moreland was signed to a one-year, $2.25 million deal. Moreland will swing in the middle of the lineup, and he could add 20+ bombs to this squad.
Oakland will need every run they can acquire, so Moreland's bat in the DH spot will help the Athletics.
The Pitching Staff
The best teams over the years in Oakland have come when young players unexpectedly step up. The player that needs to step up in Oakland is Jesus Luzardo. Luzardo went 3-2 with a 4.12 ERA in 59 innings of work.
Luzardo's statistics in 2020 earned him an eighth-place finish in the American League Rookie of the Year voting. He will not be the squad's ace to start the season, but he could emerge as the best pitcher in the organization by the end of 2021.
Luzardo is the biggest factor in Oakland's success because of his incredibly high ceiling. Chris Bassitt was outstanding last season in the 60-game slate. He finished in eighth in the Cy Young voting after posting a 5-2 record with 55 strikeouts in 63 total innings.
His ERA was 2.29, and if he can resemble his 2020 numbers, Oakland has a great chance to steal the AL West. The one question concerning Bassitt is his reliability. Bassitt is on a hot streak, but he is entering his age 32 season.
Bassitt has put together more bad innings than quality ones in his career, so I do not wholly trust him to deliver.
In addition to these arms, Sean Manaea will play a critical role in the starting rotation. Manaea started his career off in an electric way, but injuries kept him sidelined in 2019. Last year, he was good, but not great. Sean Manaea has an incredible arsenal with solid strikeout ability.
The projected Athletics 2021 season rotation is not deep, but if every player steps up, they could be serviceable because the bullpen is strong. Oakland lost Liam Hendriks, but they added Sergio Romo, Adam Kolarek, Nik Turley, and Trevor Rosenthal.
Rosenthal is not as talented as Hendriks, but he is still a top-tier reliever. The right-hander was an All-Star in 2015, a season where he recorded 48 saves. Manager Bob Melvin should rely on this group because they are among the best units in the American League.
Tanner's Projection: 84-78
The A's are a tough team to read. Are they the most talented team in the American League West? No, definitely not, but the AL West is the worst division in the American League.
The Athletics never have a lot of talent. They win with average talent who end up performing in a special way. This is a recurring theme in Oakland. I just think the team is a little too thin to make the postseason.
MORE FROM BASEBALL SPOTLIGHT: If you enjoyed our Athletics 2021 season preview, be sure and check out all of our MLB team and division previews before the 2021 season's first pitch is thrown!
Baseball Spotlight's MLB 2021 Season Team Previews
Baseball Spotlight's MLB Division Preview Series
---
Join our Discord
to leave a question or comment regarding this article. We have sports fans talking betting all day — every day! JOIN THE DISCORD NOW AND QUALIFY FOR PRIZES & BETTING SWAG!
---