Jarred Kelenic, the #4 ranked prospect in the MLB pipeline, has seen his first stint in the MLB come to an end after being sent down to AAA Tacoma on Tuesday. Kelenic was slumping hard, going hitless in his last 39 at-bats.
The timing just seemed off for Kelenic and the Seattle Mariners as he was only able to muster 8 hits over 23 games and had an awful batting average of .096. The Mariners were 12-13 since calling up Kelenic to the MLB roster.
It seems that Kelenic was not as MLB-ready as most people thought.
Background
The 21-year-old outfielder was drafted sixth overall by the New York Mets in the 2018 Major League Baseball Draft and signed with the team for $4.5 million.
After just a short few months within the Mets Pipeline, where he produced admirably, he was traded to the Mariners along with Jay Bruce in the deal that sent Robinson Cano, Edwin Diaz, and $20 Million to the New York Mets.
Kelenic would go on to have a stellar 2019 campaign across 3 clubs within the Mariners minor league system. He began that 2019 season with the West Virginia Power of the Class A South Atlantic League. Kelenic was then promoted to the Modesto Nuts of the Class A Advanced California League in May. In August, he was promoted to the AA Arkansas Travelers.
Over 113 games with the 3 clubs, Kelenic put up outstanding numbers, slashing .291/.364/.540, racking up 23 home runs, notching 68 RBIs, and snagging twenty stolen bases.
He was inactive for the 2020 season due to the Coronavirus pandemic canceling the Minor League Baseball season. At the start of this season, he was assigned to the AAA Tacoma Rainers prior to being called up on May 13th.
That same day he made his Major League debut against the Cleveland Indians as the starting left fielder and would go hitless over 4 at-bats. The next day, Kelenic recorded his first MLB hit, and it would be a memorable one. He launched a two-run home run in the bottom of the third inning.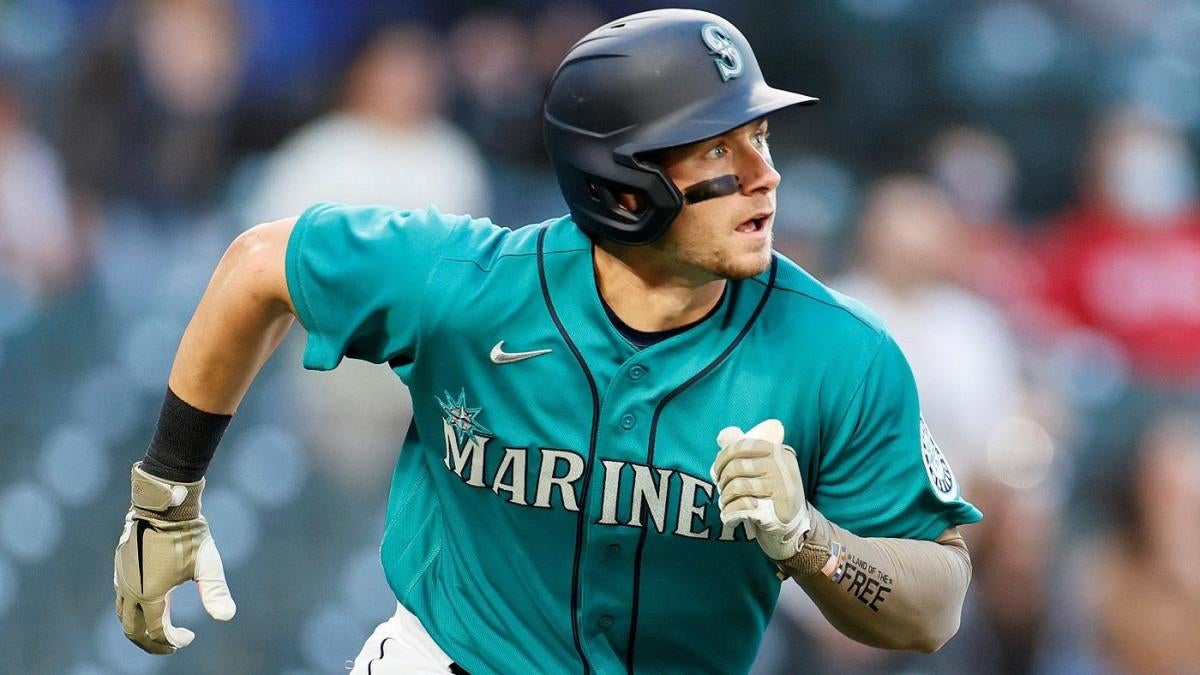 Despite a memorable second game, Kelenic was never able to get anything going, leading to his demotion back to AAA.
Strengths
All though they failed to shine through in his first Major League stint, Kelenic has many strengths and very few weaknesses to match. He hits and runs hard and knows how to work the plate.
He has a natural swing and can make solid contact on any ball within the strike zone.
Good plate habits lead him to only swing at pitches he knows he can hit and the pitches that are in his zone. This is something he let get away from himself in the Majors, and hopefully, he can reacquire with a bit of time in the minors.
Those good habits let him consistently get hits and get on base as he often worked himself out of slumps in the minor leagues.
Kelenic is also an above-average fielder. He has quick instincts when reading the ball and his arm strength allows for him to play any role in the outfield. His range has him equipped enough for center field as well.
He has also shown consistent base running skills that have allowed him to rack up a solid amount of stolen bases on the minor league level.
Weaknesses
There are not many weaknesses to list. That being said, let's dive into what he failed to do in the majors.
Kelenic chased on breaking balls and pitches outside the strike zone, which led him to strike out about every three at-bats.
He lost his identity as a hitter, which was his consistency. He let each failed at-bat carry into the next one, and it affected his ability to see and make contact with the ball. He even said it himself.
"I think that, like anybody, when I went through it, and I broke it down to where I was swinging the bat well early, and then I started to get super unlucky, and that turned into me pressing and trying to get those hits," he said.
As a fielder, Kelenic spent much of his time in left field, a bit of a change from his regular spot in center field in the minors. He registered 36 putouts on 37 chances and recorded one error. He did not have many opportunities to show off his above-average arm.
This is definitely not the last we see of Kelenic at the Major League level, and I think we will see him again in 2021 as the Mariners have continued to struggle to consistently win games. I expect a more mature and polished Kelenic the next time around. One that lives up to his massive All-Star potential.
---
Join our Discord
to leave a question or comment regarding this article. We have sports fans talking betting all day — every day! JOIN THE DISCORD NOW AND QUALIFY FOR PRIZES & BETTING SWAG!
---