Pros and Cons of Kenley Jansen Closing for the Dodgers in 2021
Spring Training games are underway, which means the defending World Series Champions, the Los Angeles Dodgers, are back to work. The Dodgers 2020 title can be attributed to countless factors such as Los Angeles' vicious lineup, the addition of Mookie Betts, and Clayton Kershaw's playoff performances, just to name a few.
One player that did not help Los Angeles in the 2020 playoffs was relief pitcher Kenley Jansen. Jansen struggled in the World Series, which caused many people to question if the pitcher would be closing in 2021.
Jansen, who was one of the top relievers in baseball just a few years ago, is still expected to start the season as the Dodgers' closer. Although, there is no doubt that Jansen is on thin ice when it comes to the ninth inning.
Let's examine the pros and cons of Kenley Jansen Closing for the Dodgers in the 2021 season.
The 2020 World Series
The Tampa Bay Rays won with pitching last season, but their lineup looked like one of the best in baseball when Jansen took the mound. I was nervous for Los Angeles when Jansen took the mound because his presence seemed to ignite Tampa Bay's offense.
Jansen made two appearances in last year's Fall Classic, posting a record of 0-1, with a 10.80 ERA and a blown save. The Rays hit .375 off the closer in his two World Series outings.
Jansen's blown save in game four was the final nail in the pitcher's coffin for Dave Roberts. Jansen had been inconsistent throughout the year, and Roberts told the press that he did not know if he would give Jansen the ball again in the World Series.
The Dodgers finished the series in game five, and Roberts chose to overlook Jansen late in the team's 4-2 victory.
Should Jansen Close for Los Angeles?
In late February, David Vassegh of AM 570 LA Sports reported that Dave Roberts expects to call Jansen's number when save opportunities arise to start the season. If Jansen struggles, Roberts will most likely rely on Brusdar Graterol and Blake Treinen to deliver wins in the late innings.
Treinen has been slightly above average throughout his seven-year career. Nevertheless, he is not the future of the Los Angeles Dodgers. Brusdar Graterol, whose fastball touches 100 mph, is the next closer for the Dodgers.
However, this is Jansen's bullpen until further notice.
Pros of Jansen Closing for the Dodgers
Heading into Spring Training, Dave Roberts stated that,
"I believe we're at our best if Kenley is closing for us. But with that said, we have a lot of viable options to finish games."
I think Roberts is genuine when he says that the Dodgers are at their best with Jansen closing contests. Jansen, known as "Kenleyfornia" to many Dodger fans, has been a Los Angeles staple for his entire career.
The pitcher is a three-time All-Star and a two-time National League Reliever of the Year. He is in an elite category as a member of the 300 saves club. Only thirty pitchers in MLB history have recorded 300+ saves in their careers.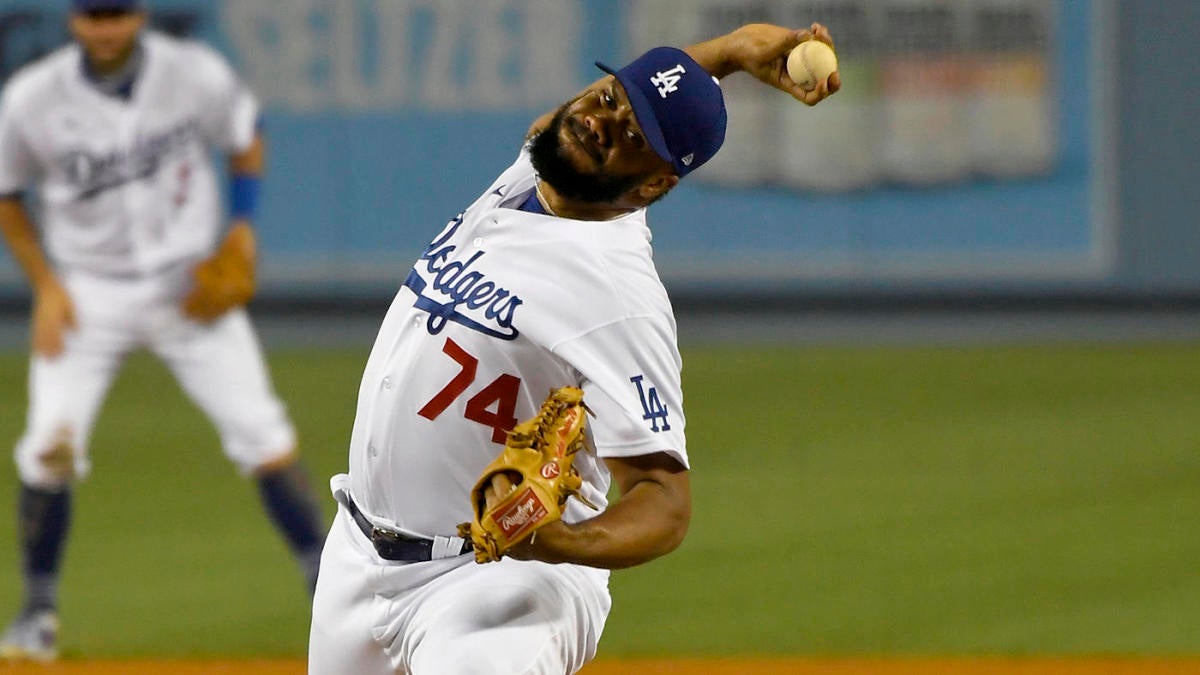 Jansen's experience has given him insight into the art of pitching. He knows what works, as well as how to attack batters when the pressure is on.
Additionally, Jansen performed well in last season's 60 game slate. He is two seasons removed from his latest All-Star Game appearance. Jansen still can pitch, and I believe he will have a great year as long as he gets out to a hot start.
ENJOYING PROS AND CONS OF  KENLEY JANSEN CLOSING FOR THE DODGERS ARTICLE? Click the link here for more baseball news from Baseball Spotlight!
Cons of Jansen Closing for the Dodgers
Jansen is not a typical closer in today's game. Closers usually come into the game and throw fastballs in the mid to high nineties with a dangerous off-speed pitch.
Jansen relies on his cutter, which he throws anywhere between 94 mph and 90 mph. Pitch velocity has been a concern for Jansen.
In 2018, his cutter averaged 94.6 mph. The velocity of his cutter has dropped drastically over his career. Last season, his cut fastball averaged 90.9 mph, and it was a point of criticism from the media when he missed his spots because opponents made him pay.
Jansen's speed and location issues were not very noticeable in the regular season. He was one of the best in baseball at yielding soft contact. The script flipped in the postseason, and it caused Jansen's stellar reputation to be eradicated.
Jansen's drop in speed is a concern, but it's manageable as long as he locates his pitches. He needs to be flawless because big league hitters will make him pay if a ball that's supposed to be on the outside corner drifts over the middle of the plate.
Kenley Jansen is the right choice in Los Angeles, but he will need to win with great pitching by locating and using his entire arsenal. If he starts hot, there will be no question of who owns the ninth inning in Los Angeles.
Follow me on IG @tannerkern and Twitter @tannerkern_ for game previews, betting analysis, and the best stories from the sports world. Be sure and keep up with the Sports 2.0 Network, Sports 2.0 Twitter, Basketball Articles, Baseball Spotlight, and  Knup Sports for all of my latest content and best takes from around the sports and sports betting world as well!!
---
Join our Discord
to leave a question or comment regarding this article. We have sports fans talking betting all day — every day! JOIN THE DISCORD NOW AND QUALIFY FOR PRIZES & BETTING SWAG!
---