If you were not aware of the name Ryan McMahon before 2021, you are now.
Rockies fans in 2021: Nolan Arenado Who?
This is a slightly fictitious heading, but McMahon has stepped up for the Rockies in 2021 after the departure of the four-time Platinum Glove winner. The utility player has also helped the team fill the void left at second that began when DJ LeMahieu departed to the east coast to sport the blue pinstripes.
'Ry Mac' as he is referred to by his teammates, has been the surprise of 2021. His fantastic play is obviously not leading the Rockies to the postseason, but the emergence of Ryan McMahon should excite Colorado for the future.
Ryan McMahon: 2nd Round Selection Out of Mater Dei High School
Ryan McMahon has already accrued three years of service time since debuting in the show in 2017. You typically do not think a player who has been on a big-league field for the past five years would still not be in his MLB Golden Years, but McMahon is an exception.
The infielder was drafted in 2013 out of Mater Dei High School. Since he debuted in 2017, he has worked his way up from a platoon man to a potential franchise player.
Apart from a 2020 slump, McMahon has gotten better at the dish each season. He had a breakout campaign in 2019, slashing .250/.329/.450 as a 24-year-old. He added 24 home runs and 83 RBIs to his yearly total.
2019 proved that McMahon was turning into what a franchise would hope for a former second-round pick, but adversity struck the infielder in 2020. He played in 52 of 60 games for the Rockies, averaging .215 at the plate with an OBP under .300.
The Colorado Rockies Offseason
It's a recurring joke on Twitter that the Rockies paid the Cardinals to take Nolan Arenado off their hands. However, this is not a joke if you look at the details of the trade.
The Rockies traded Arenado and $51 million for LHP Austin Gomber, INF Mateo Gil, INF Elehuris Montero, RHP Tony Locey, and RHP Jake Sommers. None of these players scream headliner like St. Louis third baseman and the majority are prospects.
This could have been the worst trade in MLB history, but it gave Ryan McMahon a chance to step into the spotlight alongside Trevor Story. In 2022, Ryan McMahon will be flying solo because Story will be a free agent at the end of the season.
Story is a top-tier shortstop alongside Corey Seager, Javier Baez, and Carlos Correa in 2021 free agency. It's already known that he will be collecting a large sum of money in the offseason from a franchise besides the Rockies.
Story's departure will hurt the club, like Arenado's in the offseason, but Ryan McMahon could not be coming alive at a better time for Colorado. He is turning into a player that the team can build around at a reasonable price.
Ryan McMahon: Did Someone Say Mashing?
McMahon, who is 26 years old, has been dominant at the plate for the Rockies. In 34 games, he has acquired an on-base percentage of .307 with eight home runs and 21 RBIs. The power from McMahon has been exciting to watch for Rockies' fans in 2021.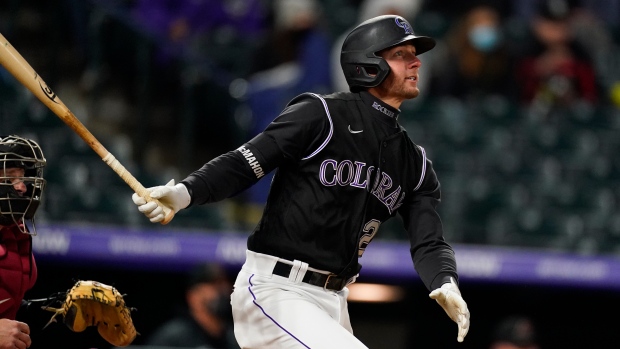 His average is .265, which is not great. Nevertheless, the Rockies do not have a lineup like the Dodgers or Yankees, where every player is protected. Pitchers are facing McMahon in situations where they can throw anything they want because of the lack of protection in Colorado.
As McMahon matures and the Rockies start to rebuild, I expect McMahon's average to rise drastically. He is a five-tool player that will headline the Rockies in the future.
Will he be the next LeMahieu, Arenado, or Story? It's too early to answer this question, but he is next in line for the throne.
McMahon is currently signed to a one-year deal worth $2.38 million. He is eligible for arbitration in 2022 and will be a free agent in 2024. Do not be surprised if Colorado locks McMahon up to a long-term deal after 2021 to get a cheaper rate than two years down the road.
Tanner Kern is a writer for Knup Sports and the Sports 2.0 Network. He is the host of Between the Lines, the official show of Baseball Spotlight, and the main contributor for the website. Connect with Tanner on IG @tannerkern and Twitter @tannerkern_. 
---
Join our Discord
to leave a question or comment regarding this article. We have sports fans talking betting all day — every day! JOIN THE DISCORD NOW AND QUALIFY FOR PRIZES & BETTING SWAG!
---