Big league stardom is a process. It takes time to succeed in professional baseball, and Jarred Kelenic is now aware of this fact. The Mariners demoted Kelenic to Triple-A after 23 big league games.
There were high hopes for Kelenic after his second contest, where he was 3 for 4 with two doubles and a homer. However, the wheels fell off quickly for the future superstar.
This has led many people to ask, "Should Jarred Kelenic have been optioned to Triple-A?" The answer is complex, but the Mariners made the correct decision.
Kelenic's Cold Streak
Jarred Kelenic made his debut on May 13, 2021, against the Cleveland Indians on a night where he went hitless. The outfielder bounced back in game two, which made fans pronounce Kelenic as the second coming of Ken Griffey Jr.
After May 14, the slump of the century began for the 21-year-old. Before he was sent down, he was on a 0 for 39 streak at the plate. His slash line was .096/.185/.193, which caused his wins above replacement to be -0.7.
Mariners manager Scott Servais spoke about Kelenic's struggles at the dish before the franchise elected to send him down.
"He certainly is struggling right now. He is putting a little bit of pressure on himself, like all guys do when they struggle. It's no different than anybody else. And that's young guys. That's for guys that have a couple of years in the league or are veteran guys. So, you know, we'll evaluate it day-to-day like we did everybody else. He's a good baseball player. He's just not getting a whole lot of hits, and a lot of luck."
It takes time for young hitters to find a rhythm at the plate. Even the best player in baseball, Mike Trout, did not dominate at the beginning of his career. Trout averaged just .220 through the first 40 games of his time in the show.
Kelenic was the fourth-ranked in prospect in baseball for a reason. He is talented, but the Mariner needs more at-bats before he encounters big league pitching and pressure.
The Debate Over Demoting Kelenic
The future of Seattle Mariners baseball features Jarred Kelenic as a headliner. He will be plastered all over Safeco Field in the future, but it's not his time.
Kelenic will most likely be in the show before the end of the season because he is not the type of player to take this news and fold. The outfielder has shown grit since he began climbing the prospect rankings.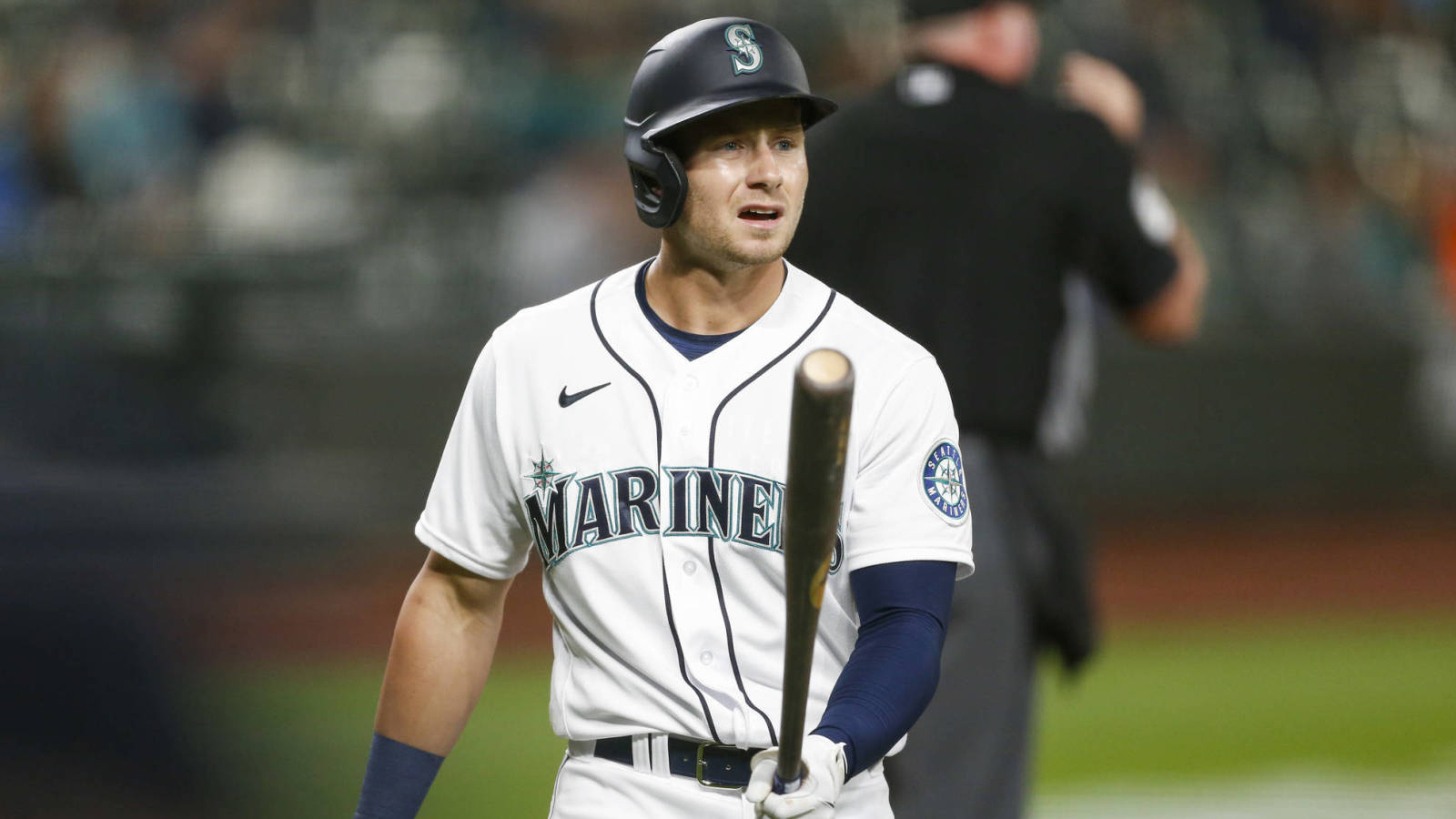 Some people believe the Mariners should have continued to let him fail at the Major League level because Triple-A is "meaningless." However, I would not think of Kelenic's at-bats in Triple-A as meaningless.
These at-bats are meaningful because they are necessary for him to succeed in the show. He can regain his confidence and allow the game to come to him in the minors. This is not going to hurt his development.
I understand the thought process of allowing the outfielder to fail at the professional level, but a front office also needs to protect their future franchise players.
Too much failure for a young player can be detrimental, and that is the last thing the M's want for Kelenic. I do not think his Triple-A stint will be very long, but it's necessary for him to stay in the show when he returns.
In the 2021 Triple-A season, Kelenic has slashed .370/.414/.630 with two bombs in 29 at-bats. Expect him to return to this dominant level very quickly with the Tacoma Rainiers.
Tanner Kern is a writer for Knup Sports and the Sports 2.0 Network. He is the host of Between the Lines, the official show of Baseball Spotlight, and the main contributor for the website. Connect with Tanner on IG @tannerkern and Twitter @tannerkern_.
---
Join our Discord
to leave a question or comment regarding this article. We have sports fans talking betting all day — every day! JOIN THE DISCORD NOW AND QUALIFY FOR PRIZES & BETTING SWAG!
---