Hey, Yankees fans, what are your early season thoughts? I am not very impressed.
The New York Yankees have been far from impressive at the beginning of the 2021 MLB season. The Bronx Bombers were projected to win the American League East, but New York is 4-5 after nine games.
I am not trying to blow New York's lackluster start out of proportion because there are still 153 games left, but should Yankees fans be worried?
I still believe that New York is going to win the division. However, there are reasons to be concerned if you are a Yankees fan.
The Record
MLB season is just beginning, but the Yankees' slow start is problematic. It's not like New York has played against three of the best teams in baseball to kick-off 2021.
New York started the season with a series loss against the Toronto Blue Jays. The Blue Jays took two of three from the Yankees, and they did not have George Springer in their lineup.
The Blue Jays were expected to be a top-tier team in the American League, but they have looked weak in 2021 as well.
The Bronx Bombers took two of three from the Baltimore Orioles, which is nothing impressive. They blew game three in extra innings because of an error by Gleyber Torres. The team then traveled to Tampa Bay and barely took one game of this three-contest set.
Tampa Bay won the American League in 2020, but they got worse in the offseason. The Rays front office also spends less on their whole team throughout a season than New York spends on Gerrit Cole.
If the Rays had capitalized on their opportunities in extra innings, they would have swept the Yankees. New York should not lose to the Rays considering the prices that both squads spend on players.
So, Yankees fans, are you worried yet?
Strikeouts by Stanton
The Yankees depend on a few hitters, and one of the athletes on the list is Giancarlo Stanton. Stanton has always been a player that strikes out, and he has not cleaned up this trend since he transitioned to the Bronx in 2018.
Stanton's 2021 wins above replacement is -0.1. This number means that New York is losing games by having the former MVP on the field.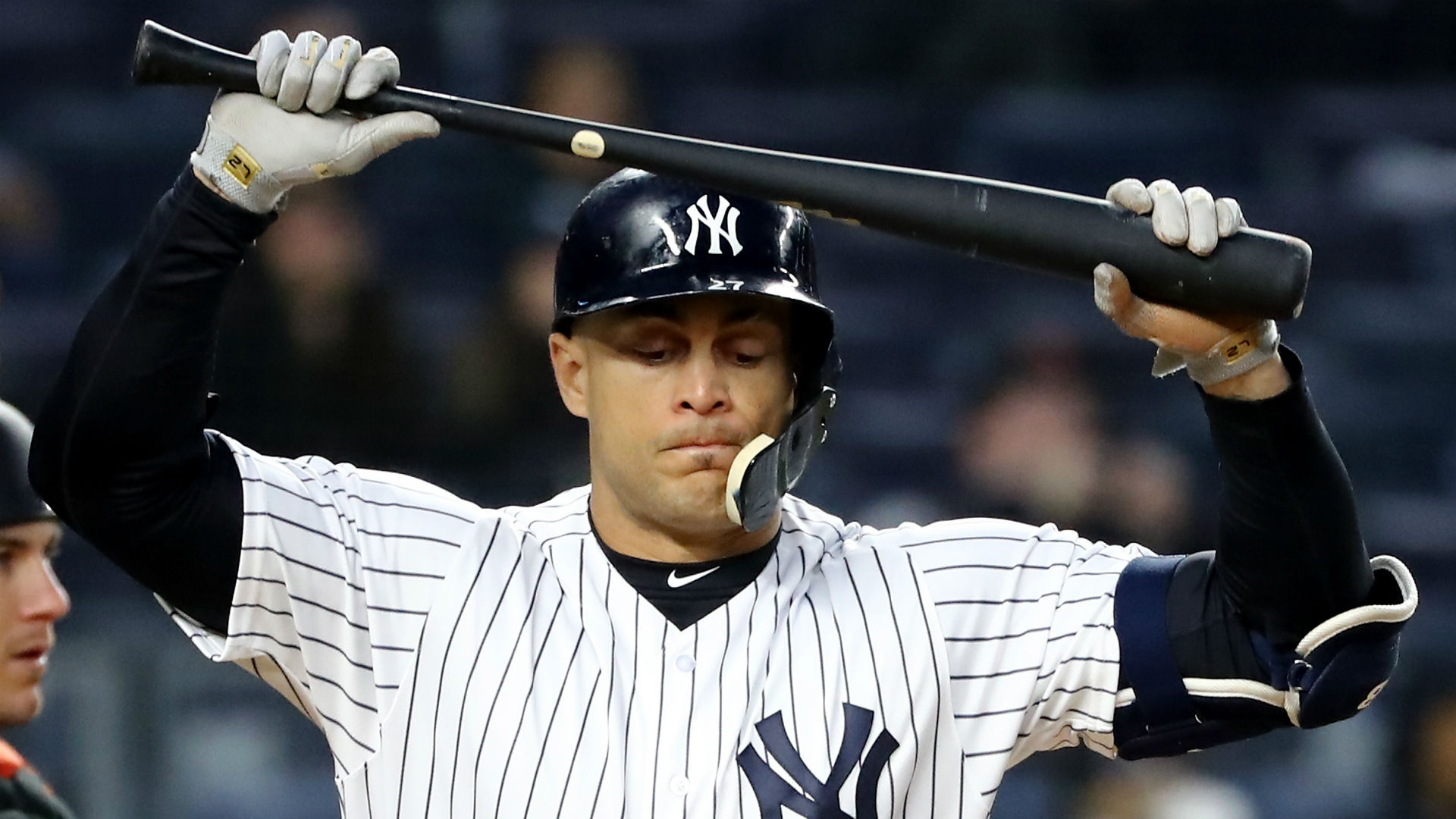 Stanton is making $29,000,000 in 2021, which is also more than the Rays yearly payroll. This salary would be acceptable if Stanton were producing, but the designated hitter is struggling to make contact.
Stanton's strikeouts have been acceptable because of his power numbers, but he has only left the yard once. His batting line is .188/.257/.313, which is horrendous for any big leaguer, let alone a former MVP.
Yankees fans, have I sacred you now?
Early Injuries to the Judge
The Yankees have suffered from the injury bug for years. There have been no significant injuries nine games into the regular season, but Aaron Judge has already battled a grievance that he said was "tough to describe."
Judge has missed two games in 2021 because of soreness in his side. This may seem minimal, but all Yankees fans know this is alarming.
Judge has played five full seasons in the big leagues, and he has been put on the injury list five times. Last season, he played just under half of the games in the shortened slate.
Do not worry Yankees fans. It has only been two games… right? Keep telling yourselves that.
Not Enough Pitching
Gerrit Cole is in the running for the King of New York with Jacob deGrom over in Queens. Nevertheless, Cole can only throw once every five days.
On the days where Cole does not take the hill, New York is very vulnerable on the mound. Corey Kluber is not the same Cy Young caliber pitcher that we remember. Kluber's last year of success was 2018, but at 35 years old, it could be time to hang up the cleats.
Kluber has not been awful, but he has not been good. He is 0-1 in two starts with a 5.68 ERA. The Yankees are expecting Kluber to be a strong pitcher at the front end of the rotation, and he is not capable of this at this point in his illustrious career.
Jameson Taillon's upside is tremendous in the rotation, but he has dealt with two Tommy John surgeries in his career. He is new to the Bronx, but there are still many questions surrounding the 29-year-old.
The Yankees optioned Domingo German down to the alternate site because of his early season catastrophes on the bump. German had a tremendous spring, but he struggled when he faced a full arsenal of big leaguers.
So, Yankees fans, is there enough pitching? I do not think so…
New York will get hot, but you should be worried about this team if you are a Yankees fan. New York has not been to a World Series in 12 years, so the pressure is on in the Big Apple.
There is a ton of baseball left, but early impressions do not give me hope that 'the Savages' will deliver in October.
Follow me on IG @tannerkern and Twitter @tannerkern_ for game previews, betting analysis, and the best stories from the sports world. Check out my baseball show, Between the Lines, every Sunday at 6:00 PM ET. Make sure and keep up with the Sports 2.0 Network, Sports 2.0 Twitter, Basketball Articles, Baseball Spotlight, and  Knup Sports for all of my latest content and best takes from around the sports and sports betting world as well!!
---
Join our Discord
to leave a question or comment regarding this article. We have sports fans talking betting all day — every day! JOIN THE DISCORD NOW AND QUALIFY FOR PRIZES & BETTING SWAG!
---