Ever since pitcher Gerrit Cole stumbled over his words when he was asked about using sticky substances to help him create more movement on his pitches, things haven't really gone the way Gerrit Cole and the New York Yankees are used to.
It only got worse on Sunday when Cole was tagged for two home runs in the first inning at Fenway Park. The first was a solo shot on the first pitch of the game. Boston Red Sox infielder Enrique Hernandez lined a 96 mph four-seam fastball into the first row of seats above the Green Monster in left field. The second homer was a three-run shot off the bat of third baseman Rafael Devers to put the Red Sox up 4-0 in the first inning.
Later in the game, Cole also was guilty of serving up a home run to Boston designated hitter J.D. Martinez and was removed from the game after just five innings that included six runs — five of which were earned. Sunday's outing bumped Cole's ERA in June to an ugly 4.65, the highest it has been since 2017 when he was with the Pirates.
An ugly June
Cole was named in an article in Sports Illustrated as one of the pitchers who had purchased a sticky substance from former Los Angeles Angels clubhouse manager Bubba Harkins. Since Major League Baseball decided to really crack down on pitchers applying foreign substances to the ball in mid-June, hitters have seen their averages rise and more runs being scored.
So it's fair to wonder if Cole — who seems to be guilty of doctoring the baseball — is really becoming the face of this new era. After surrendering the home run to Devers, Cole punched his right fist into his glove and walked around the mound before settling in a squat with his head down behind the mound.
"Couldn't get the breaking ball down," Cole said of his middle-middle breaking ball to Devers. "Couldn't get the fastball where I wanted to. I tried to make a good pitch to Devers and absolutely pulled it into the wrong part of the zone. The first of the game [to Herenandez] was poorly located as well."
In addition to the plus 4.50 ERA in June, Cole has seen opponents take him deep nine times this month — the second-most home runs he has ever allowed in a month. He gave up 10 long balls in August of last season. Really, the biggest difference in Cole, though, in the last few starts is the number of strikeouts he's recording — or lack thereof.
In March and April, Cole struck out an impressive 14.8 batters per nine innings, but since the calendar flipped to May, he has seen his K/9 fall below 10. Despite the dramatic decrease in strikeouts, Cole still has is punching out over 11 hitters per nine this season, but he is on track to have his lowest K/9 since 2017 when he was with the Pirates.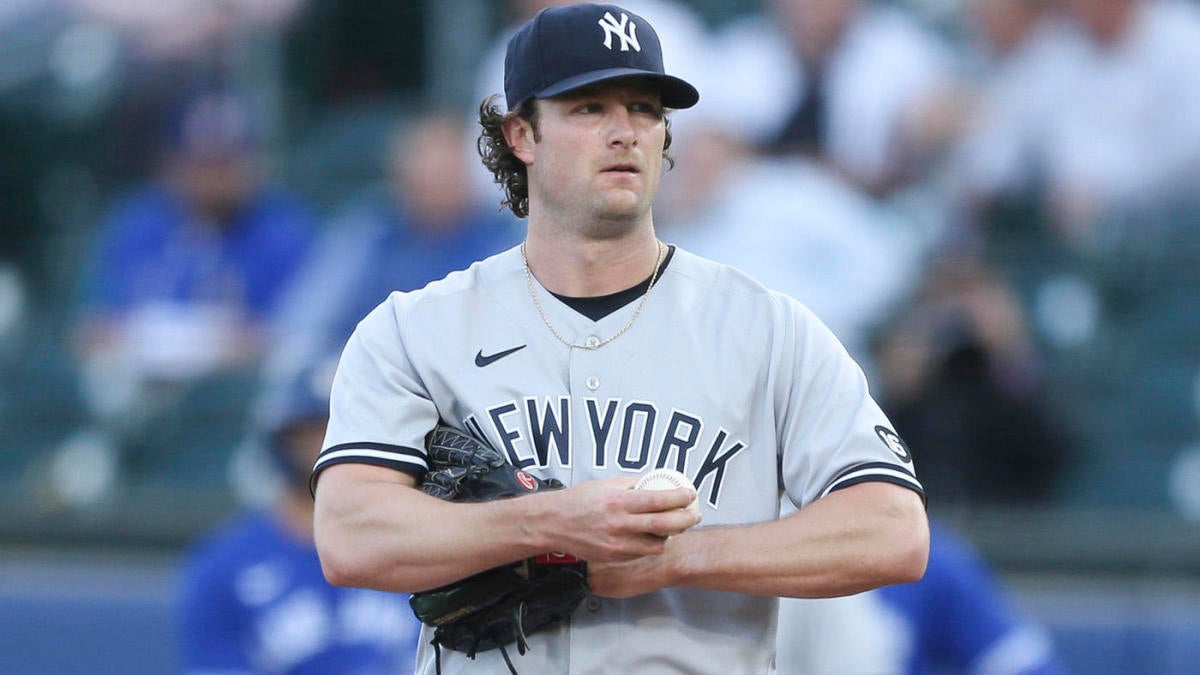 Lower and higher
It's fair to assume that Cole was regularly using foreign substances when pitching, and that has contributed to a lower spin rate. However, in his start on Sunday, Cole's average spin rate of 2.442 rpm on his 37 four-seam fastballs, per Statcast, was up from his previous two starts.
Despite having a lower spin rate, the Yankees' ace has seen an uptick in his velocity. He regularly touched over 98 mph with his fastball on Sunday. His fastball averaged 98.3 mph, the highest of any regular-season game in his nine-year MLB career.
Cole's average fastball spin rate in June was the lowest of any month since July 2018, but his average fastball velocity was the highest of any month in his career.
It's clear that with less movement on his pitches that Cole is trying to evolve by throwing harder, but he doesn't seem to have the great swing and miss stuff that allowed him to be one of the best strikeout pitchers in MLB over the last three seasons.
"Some of the swing-and-miss has been a little missing here the last few outings," Yankees' skipper Aaron Boone said.
Time for concern?
The reality for Cole — and the Yankees — is that they probably shouldn't overreact to the struggles. Cole's start on Sunday came after three straight quality starts in which he held his opponent to less than two runs.
"The bottom line is he's coming off two really good starts," Boone said. "Today is going to inflate [his ERA], and really if you look at it, it was one pitch that really got him. A three-run homer can wreck an outing, especially someone of his caliber."
With the loss on Sunday, the Yankees fell into fourth place in the AL East and hold an 0-6 record against the Red Sox and a 17-24 record against all other AL East opponents.
So while it seems to just be more of a bad start — a rarity for Cole despite some fluctuation in his numbers this month — the Yankees will need their ace to really pitch like himself if they want to climb out of the hole they are currently in.
---
Join our Discord
to leave a question or comment regarding this article. We have sports fans talking betting all day — every day! JOIN THE DISCORD NOW AND QUALIFY FOR PRIZES & BETTING SWAG!
---