The AL East is expected to be a very competitive division in 2021. The Tampa Bay Rays won the AL East last season with a record of 40-20. The Yankees finished seven games back, and the Blue Jays ended the season eight games behind the Rays.
The Orioles and the Red Sox both finished way under .500 on the year and did not make the postseason. The Yankees are the favorite to win the AL East in 2021. In this AL East preview, let's take a look around the division.
New York Yankees
2020 Record: 33-27
Projected 2021 Finish: 1st
Projected Lineup:
1.     DJ LeMahieu – 2B
2.     Aaron Judge – OF
3.     Aaron Hicks – OF 
4.     Giancarlo Stanton – DH 
5.     Luke Voit – 1B
6.     Gleyber Torres – SS 
7.     Clint Frazier – OF 
8.     Giovanny Urshela – 3B 
9.     Gary Sanchez – C 
 
Projected Rotation:
1.     Gerrit Cole 
2.     Corey Kluber 
3.     Jameson Taillon
4.     Jordan Montgomery
5.     Domingo German
6.     Luis Severino 
Top Relievers:
 
1.     Aroldis Chapman 
2.     Chad Green
3.     Zach Britton
The Yankees can dominate the AL East in 2021. However, for New York to reclaim their crown, they need to be much better than last season. The Yankees went on a late-season run to sneak into the playoffs in 2020.
Injuries plagued the Yankees in 2020. These were detrimental because of the shortened season, but New York will need to stay healthy to win the AL East.
The Yankees have the best lineup in the American League. Giancarlo Stanton needs to lead the charge. His injury-plagued career as a Yankee has been detrimental to the team. I believe Luke Voit could be New York's impact player in 2021.
Voit appears to be in the best shape of his life. He has cut a lot of fat in preparation for the 2021 season, so I expect this to pay dividends for the Yankees.
The Yankees bullpen is a concern. I think it's still very incomplete. It appears that New York is relying on extended outings from their starters, but this is not the way that MLB operates in 2021.
If the Yankees can put all the puzzle pieces together, they will win the AL East. Although, this is easier said than done.
Tampa Bay Rays 
2020 Record: 40-20
Projected 2021 Finish: 2nd
Projected Lineup:
 
1.     Austin Meadows – DH
2.     Brandon Lowe – 2B
3.     Randy Arozarena – OF
4.     Ji-Man Choi – 1B 
5.     Manuel Margot – OF 
6.     Joe Wendle – 3B
7.     Willy Adames – SS
8.     Kevin Kiermaier – OF
9.     Mike Zunino – C
Projected Rotation:
 
1.     Tyler Glasnow
2.     Chris Archer
3.     Ryan Yarbrough 
4.     Michael Wacha
5.     Andrew Kittredge 
Top Relievers:
1.     Peter Fairbanks 
2.     Diego Castillo
3.     Nick Anderson 
Tampa Bay lost a massive piece of their team when Blake Snell departed to San Diego. Snell was not happy that manager Kevin Cash pulled him against the Dodgers in the World Series.
That strategy allowed Cash to take his team to the World Series, so it's tough to argue with the Rays' skipper. Like last season, Tampa Bay is going to have to win with pitching.
I expect Randy Arozarena to have a breakout season at the plate, but the Rays need to record timely hits to have offensive success.
Tyler Glasnow will become the Rays' primary pitcher in 2021. Glasnow was phenomenal last season, going 5-1, but his workload this year will exponentially increase because of the lengthened season.
The Rays will need to get lucky to win the AL East this season. This is New York's division to lose at this point.
Toronto Blue Jays 
2020 Record: 32-28
Projected 2021 Finish: 3rd
Projected Lineup:
1.     George Springer – OF 
2.     Marcus Semien – 2B 
3.     Bo Bichette – SS 
4.     Teoscar Hernandez – OF 
5.     Vladimir Guerrero Jr. – 1B 
6.     Cavan Biggio – 3B 
7.     Lourdes Gurriel Jr. – OF 
8.     Rowdy Tellez – DH 
9.     Danny Jensen – C 
Projected Rotation:
1.     Hyun-Jin Ryu
2.     Robbie Ray
3.     Nate Pearson
4.     Tanner Roark 
5.     Steven Matz
Top Relievers:
1.     Kirby Yates
2.     Rafael Dolis 
3.     Jordan Romano
The Blue Jays will be dangerous for years to come. I do not think that they will win the AL East in 2021, but young stars define Toronto. The Blue Jays largest offseason transaction was bringing George Springer to the team.
Springer is one of the best outfielders in the game of baseball. He is a five-tool player that will be an excellent fit in Toronto.
If Springer can frequently get on base, there are batters in Toronto's lineup that can bring him home. 22-year-old sensation, Vladimir Guerrero Jr., is Toronto's impact player in the middle of the lineup.
Guerrero Jr. hit nine home runs in 60 regular season games in 2021. Toronto is going to be hurt on the bump in 2021. Hyn Jin-Ryu is the team's ace, but after him, the talent level drops tremendously in the rotation.
Robbie Ray was awful last season, and he is slated to be second in the rotation. The Blue Jays must score runs because it will be tough keeping a team like New York off the board.
Boston Red Sox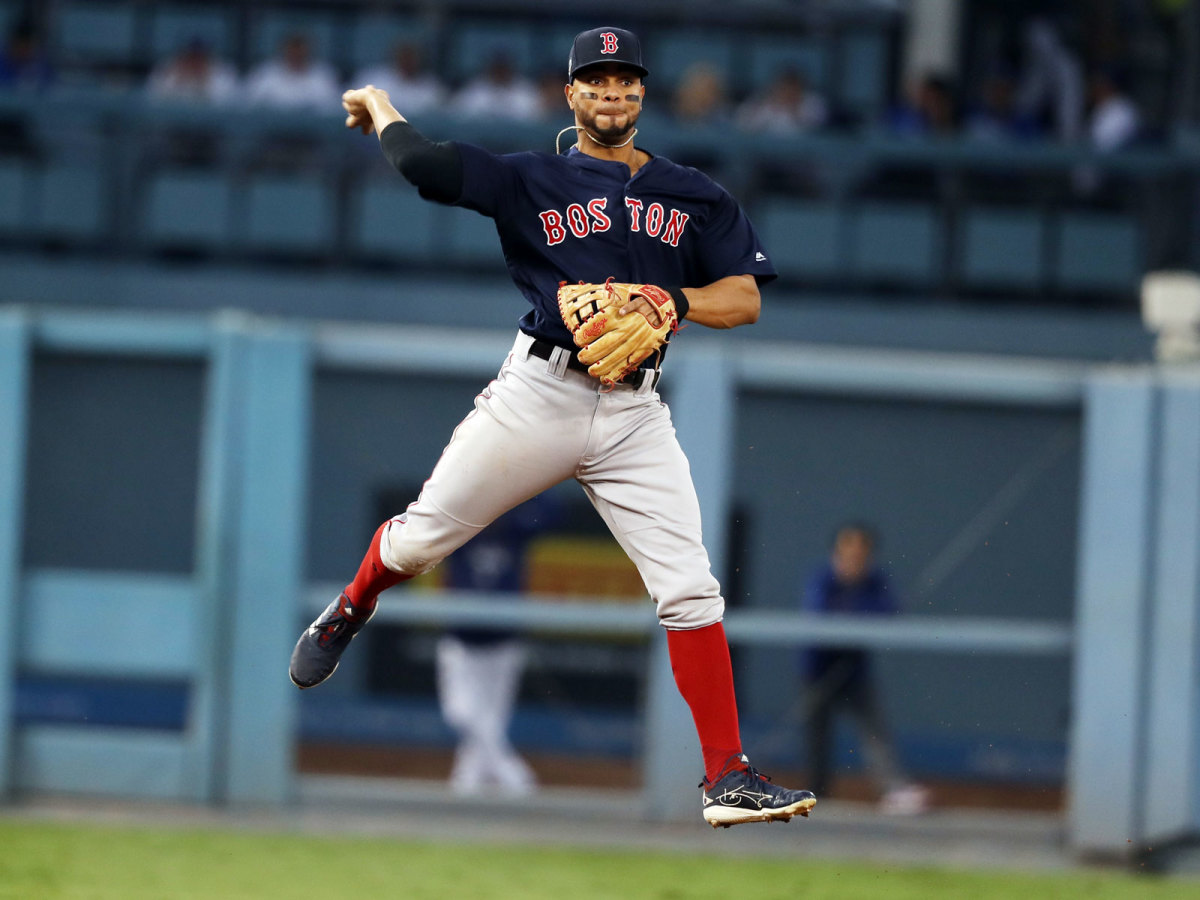 2020 Record: 24-36
Projected 2021 Finish: 4th
Projected Lineup:
 
1.     Alex Verdugo – OF 
2.     Xander Bogaerts – SS 
3.     Rafael Devers – 3B 
4.     J.D. Martinez – DH 
5.     Christian Vazquez – C 
6.     Hunter Renfroe – OF 
7.     Franchy Cordero – OF 
8.     Bobby Dalbec – 1B 
9.     Enrique Hernandez – 2B 
Projected Rotation:
1.     Nathan Eovaldi
2.     Eduardo Rodriguez
3.     Garret Richards 
4.     Martin Perez 
5.     Nick Pivetta
6.     Chris Sale 
Top Relievers:
1.     Matt Barnes 
2.     Ryan Brasier 
3.     Adam Ottavino 
The Red Sox had a disappointing season in 2020, but I think they will surprise the division in 2021. Alex Cora returns to Boston as the team manager. His mentality is going to help this team return to an elite level.
Boston has a solid lineup where multiple players can hit the ball out of the ballpark. Alex Verdugo, Xander Bogaerts, and Rafael Devers will need to carry the load at the top of the order.
The Red Sox signed Enrique Hernandez in the offseason. Hernandez will be an excellent addition to support the Red Sox at the bottom of the order.
There are a lot of questions surrounding the Red Sox starting rotation. Chris Sale had elbow surgery and is not expected to be available until May. If he can contribute when he returns, the Red Sox could compete for a Wild Card spot.
Nathan Eovaldi posted one of the best ERAs of his career in 2020. Eovaldi will need to be lights out to carry the load before Sale returns.
Baltimore Orioles 
2020 Record: 25-35
Projected 2021 Finish: 5th
Projected Lineup:
1.     Austin Hays – OF 
2.     D.J. Stewart – OF 
3.     Anthony Santander – OF 
4.     Trey Mancini – DH 
5.     Chance Sisco – C 
6.     Ryan Mountcastle – 1B 
7.     Freddy Galvis – SS 
8.     Rio Ruiz – 3B 
9.     Yolmer Sanchez – 2B 
Projected Rotation:
1.     John Means 
2.     Keegan Akin
3.     Dean Kremer
4.     Jorge Lopez
5.     Felix Hernandez
6.     Matt Harvey 
Top Relievers:
1.     Hunter Harvey 
2.     Tanner Scott
3.     Cesar Valdez
The Orioles do not look good heading into the 2021 season. Trey Mancini is Baltimore's best hitter, but he should not be headlining an MLB franchise.
When you look at the Orioles roster, it's defined by averageness. Nobody on the team stands out in the lineup or the rotation.
Expect top Minor League prospect, Adley Rutschman, to get the call to the show early in the 2021 season as Baltimore continues to rebuild.
In a loaded division, the Orioles could finish as one of the worst teams in baseball in 2021.
BASEBALL SPOTLIGHT DIVISION SERIES
MORE SPORTS NEWS FROM THE SPORTS 2.0 NETWORK
---
Join our Discord
to leave a question or comment regarding this article. We have sports fans talking betting all day — every day! JOIN THE DISCORD NOW AND QUALIFY FOR PRIZES & BETTING SWAG!
---