The NL Central race was a contested battle in 2020 where Chicago prevailed down the season stretch. The NL Central is expected to be one of the tightest division races in 2021 throughout the MLB.
I believe the Reds, Cubs, Cardinals, and Brewers will all be in contention to win the division as the season unfolds. The only team that is not on a level playing field with these four teams in 2021 is the Pittsburgh Pirates. Let's break it all down in our NL Central preview.
St. Louis Cardinals 
2020 Record: 30-28
Projected 2021 Finish: 1st
Projected Lineup:
1.     Tommy Edman – 2B 
2.     Paul DeJong – SS
3.     Paul Goldschmidt – 1B 
4.     Nolan Arenado – 3B 
5.     Yadier Molina – C 
6.     Tyler O'Neill – OF 
7.     Dylan Carlson – OF 
8.     Harrison Bader – OF 
9.    Jack Flaherty – SP
Projected Rotation:
 1.     Jack Flaherty 
2.     Kwang-Hyun Kim
3.     Adam Wainwright
4.     Carlos Martinez 
5.     Miles Mikolas 
Top Relievers:
1.     Alex Reyes
2.     Giovanny Gallegos 
3.     Daniel Poncedeleon
The Cardinals should win a tough NL Central Division this season. The Cardinals came up just short of a division title by three games in 2020. This offseason, St. Louis added Nolan Arenado, who is the best overall third baseman in the game of baseball.
Arenado has won eight Gold Glove Awards and has hit .293 over his eight years of MLB service. Arenado was the missing piece to the championship puzzle in St. Louis.
Arenado will in front of or behind Paul Goldschmidt, who crushes the baseball on a regular basis. Goldschmidt and Arenado on the same roster will be deadly because pitchers will not be able to avoid both of these All-Star athletes.
The key for the St. Louis rotation will be Adam Wainwright. Wainwright is approaching 40 years old. The Cardinals resigned the former All-Star this offseason. He was not significant in 2020, but if he pitches as he did in 2019, the Cardinals will be tough to beat.
Cincinnati Reds
2020 Record: 31-29
Projected 2021 Finish: 2nd
Projected Lineup:
 1.     Shogo Akiyama – OF 
2.     Nick Castellanos – OF 
3.     Jesse Winkin – OF 
4.     Joey Votto – 1B 
5.     Eugenio Suarez – 3B 
6.     Mike Moustakas – 2B 
7.     Kyle Farmer – SS
8.     Tucker Barnhart – C 
9.    Sonny Gray – SP
Projected Rotation:
1.     Sonny Gray
2.     Luis Castillo
3.     Tyler Mahle 
4.     Wade Miley 
5.     Michael Lorenzen 
Top Relievers:
1.     Lucas Sims 
2.     Amir Garrett
3.     Tejay Antone 
The Reds have an advantage over the Cardinals when it comes to pitching. If the Reds win the NL Central Division in 2021, it will be because of their pitching staff. Sonny Gray and Luis Castillo were not their usual selves in 2020, but a 162-game schedule will help these two find their rhythm.
I think Gray and Castillo will both be around 12-8 or 13-7, depending on their support from batters on the team. I expect Tejay Antone to be a massive presence coming out of the bullpen.
Joey Votto, followed by Eugenio Suarez, has been a dominant combination over the years. Votto's power has declined in recent years, but Suarez will move him around the bases if he gets on base.
Suarez had a bad statistical season in 2020, but he hit 49 bombs in 2019. Nobody is questioning Eugenio Suarez's talent heading into 2021.
Milwaukee Brewers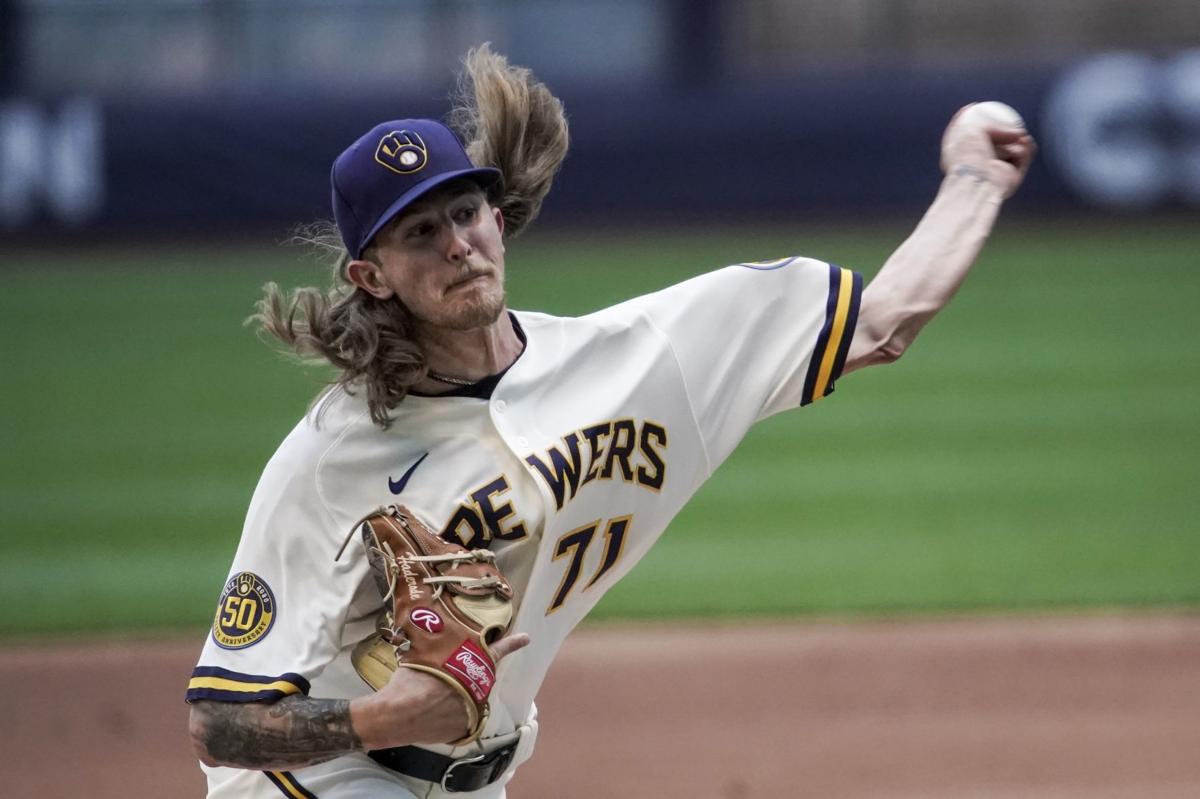 2020 Record: 29-31
Projected 2021 Finish: 3rd
Projected Lineup:
1.     Kolten Wong – 2B 
2.     Lorenzo Cain – OF 
3.     Christian Yelich – OF 
4.     Keston Hiura – 1B 
5.     Avisail Garcia – OF 
6.     Orlando Arcia – SS 
7.     Omar Navarez – C 
8.     Luis Urias – 3B 
9.    Brandon Woodruff – SP
Projected Rotation:
1.     Brandon Woodruff
2.     Corbin Burnes
3.     Brett Anderson 
4.     Josh Lindblom 
5.     Adrian Houser 
6.     Eric Lauer 
Top Relievers:
1.     Josh Hader
2.     Devin William 
3.     Freddy Peralta 
The Brewers will make noise in the division this season following their fourth-place finish in the NL Central last year. Due to the expanded playoffs, the Brewers still made the playoffs with a record of 29-31.
The top of Milwaukee's lineup is one of the best orders in baseball. However, for the Brewers to win this season, the bottom of the order will need to produce. Kolten Wong, Lorenzo Cain, Christian Yelich, and Keston Hiura will perform, but I am not confident about Avisail Garcia, Orlando Arcia, or Omar Narvarez.
If the bottom of the lineup can get on base, it will allow the Brewers' lineup to continue circulating. This will be critical for the Brewers to score runs.
Josh Hader is the best closer in baseball. He is made two All-Star Game rosters in three full big-league seasons. Hader's career WAR is 7.1, so he can clean up mistakes from starters and setup pitchers.
Chicago Cubs 
2020 Record: 34-26
Projected 2021 Finish: 4th
Projected Lineup:
1.     Ian Happ – OF 
2.     Anthony Rizzo – 1B 
3.     Kris Bryant – 3B 
4.     Wilson Contreras – C 
5.     Javier Baez – SS 
6.     Joc Pederson – OF 
7.     Nico Hoerner – 2B 
8.     Jason Heyward – OF 
9.    Kyle Hendricks – SP
Projected Rotation:
1.     Kyle Hendricks 
2.     Zach Davies 
3.     Jake Arrieta 
4.     Alec Mills 
5.     Trevor Williams 
6.     Adbert Alzolay 
Top Relievers:
1.     Craig Kimbrel 
2.     Rowan Wick 
3.     Brandon Workman 
The Cubs seem to be declining every year. Jon Lester is not on this year's squad. Also, star third baseman, Kris Bryant, said that he is not having fun playing baseball. I have to imagine that the Chicago organization is causing these issues.
It seemed that the Cubs' front office became content after their team won the World Series in 2016. The core of that team is still together, but the Cubs have not found a way to make a deep postseason run since 2018.
In 2017, the team was defeated 4-1 by the Los Angeles Dodgers in the NLCS. The lineup is solid behind Anthony Rizzo, Kris Bryant, and Javier Baez. The team signed Joc Pederson in free agency. Pederson will play a supporting role, but it will tremendously help the Cubs if he can produce in the middle of the order.
The Cubs have the talent to win the NL Central, but all the athletes need to come together. Manager David Ross needs to bring Chicago Cubs baseball back to their old championship ways.
Pittsburgh Pirates
2020 Record: 19-41
Projected 2021 Finish: 5th 
Projected Lineup:
1.     Adam Frazier – 2B 
2.     Ke'Bryan Hayes – 3B 
3.     Colin Moran – 1B 
4.     Bryan Reynolds – OF 
5.     Gregory Polanco – OF 
6.     Anthony Alford – OF 
7.     Jacob Stallings – C 
8.     Kevin Newman/Cole Tucker – SS 
9.    Steven Brault – SP
Projected Rotation:
1.     Steven Brault 
2.     Chad Kuhl 
3.     Mitch Keller 
4.     Tyler Anderson 
5.     Jonathan Brubaker 
6.     Wil Crowe
Top Relievers:
1.     Richard Rodriguez 
2.     Chris Stratton 
3.     Michael Feliz 
The Pirates are in a lot of trouble in 2021. I think Pittsburgh will be the worst team in baseball this season. The combination of playing in a tough division and Pittsburgh's lack of talent is why I believe they will have the worst record in the MLB.
The dog days of summer are going to start on Opening Day for the Pirates. Last season, the Pirates went 19-41, so this roster knows about having the league's worst baseball record.
Ke'Bryan Hayes, Colin Moran, and Bryan Reynolds can hit for average at the top of the lineup. However, I do not have confidence that any player on the Pirates can hit 20 home runs this season. Many teams in the division have multiple players who will hit 30+ bombs in 2021, so it's tough to win in the NL Central without power.
Mitch Keller will carry the load for Pittsburgh. He will eventually become the team's ace, but the 24-year-old still has not come into his own after his first two MLB seasons.
If the Pirates want to win, they will need to spend money on talent, but this is not how Pittsburgh operates. Pittsburgh's payroll ranks them at 29th for the 2021 season.
BASEBALL SPOTLIGHT DIVISION SERIES
MORE SPORTS NEWS FROM THE SPORTS 2.0 NETWORK
---
Join our Discord
to leave a question or comment regarding this article. We have sports fans talking betting all day — every day! JOIN THE DISCORD NOW AND QUALIFY FOR PRIZES & BETTING SWAG!
---