Spring Training Recap: Week 1
We are over one week into Spring Training contests which means Opening Day is rapidly approaching. A lot occurred in the first week of exhibition games. New stars made their debuts, athletes were signed, and there were a few heartwarming moments as well.
Here is everything you need to know from week one of Spring Training.
Trey Mancini Returns to the Diamond for the Orioles
Last Sunday, Trey Mancini made his official return to the Orioles in his first appearance since September 29, 2019. Mancini missed the entire 2020 season with Stage III Colon Cancer. After beating cancer, Mancini singled in his first Spring Training at-bat.
Mancini is already being regarded as the MLB Comeback Player of the Year in 2021. Since his first hit in Spring Training, he has cooled off, but the league is expecting Mancini to have a big year for Baltimore. In 2019, the outfielder hit 35 bombs and drove in 97 runners.
 Francisco Lindor Makes His Big Market Debut
Francisco Lindor was meant for New York, and it was great to see him wearing a Mets uniform. The Mets organization has been raving about Lindor since he arrived for camp. It's apparent that he makes everyone around him better, and that's what the Mets need to win the National League East in 2021.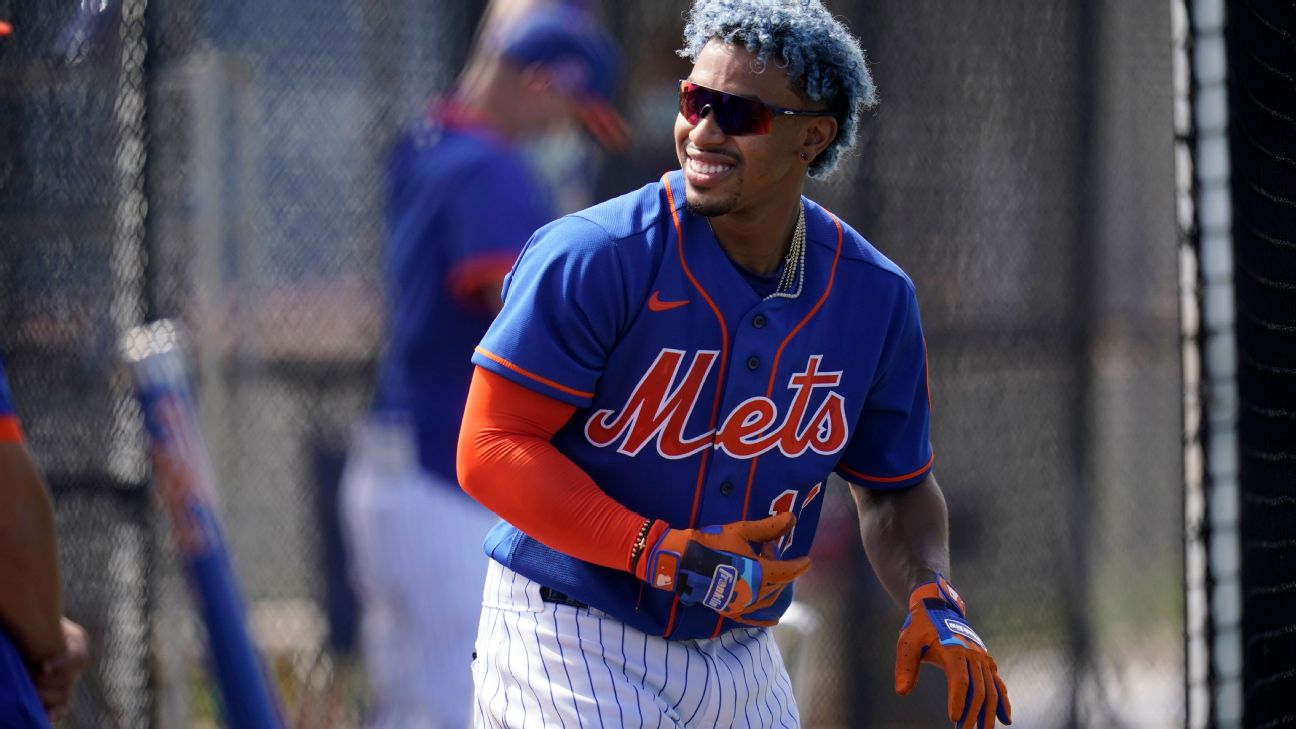 Mets acting General Manager Zack Scott has stated that contract negotiations will begin soon for Lindor. He is currently signed to a one-year deal worth $22.3 million.
Bauer's Filth is on Full Display in Dodger Blue 
In his first year of a three-season deal worth $102 million, Trevor Bauer has tormented hitters thus far. Bauer has thrown five innings in two games, fanning five batters without giving up a single run.
It will be exhilarating to see what Bauer can do with offensive and defensive support from the best team in baseball.
In-Game Video Analysis is Back in 2021
The MLB decided to bring back in-game video analysis for players in 2021. This rule was nonexistent in 2020 because of the Astros sign-stealing scandal in 2017 and 2018.
Last season, the league had one of the worst cumulative batting averages of all-time, so this is a good decision from commissioner Rob Manfred. The players will be able to review their at-bats from a tablet in the dugout with the catcher signs blurred out.
Bryce Shows Off Swing
This is not news to most, but Bryce Harper has one of the sweetest swings in baseball. Harper has two hits in two at-bats with a home run during the first week of Spring Training.
Bryce Harper's swing ? pic.twitter.com/eFQa5Mu1ff

— Athlete Swag (@AthleteSwag) March 5, 2021
Eduardo Rodriguez Back on the Mound for Boston
Eduardo Rodriguez missed the entire 2020 season because of a heart issue called myocarditis
that COVID-19 exacerbated. On Friday, Rodriguez took the hill for the first time in 359 days.
Rodriguez did not have an outstanding performance, but it was emotional to see E-Rod back on the mound. Rodriguez pitched 2 2/3 innings, giving up one run and collecting two strikeouts.
Lou Gehrig Day Set for June 2nd
The MLB is doing their part to raise awareness and money for ALS by naming June 2nd Lou Gehrig Day. The day will be a remembrance of Gehrig and his contributions to the game, as well as a fundraiser for ALS.
On Lou Gehrig Day, all players will wear a commemorative patch and red "4-ALS" wristbands. Every team will honor Gehrig in their respective pregame ceremonies.
Aaron Boone Has Successful Pacemaker Surgery
Aaron Boone had open-heart surgery in 2009, so health scares are no rarity to the Yankees skipper. Boone's heart rate dropped to 30 beats per minute which caused him to be rushed into pacemaker surgery on Wednesday.
Boone has already recovered, and he is back with the team in Tampa Bay. If you did not know that Boone is a BASEBALL GUY before this, it should now be confirmed in your mind.
Top Prospect Wander Franco Goes Yard
Wander Franco is the top prospect in baseball, and he just turned 20 years old. Franco is making a lot of noise in Spring Training. It's unlikely that he will play in the big leagues this season, but he has made an impact in his first year of big-league Spring Training.
Franco has racked up four hits in ten at-bats with a home run and two RBIs. After a 0 for 5 start, the youngster seems to be finding his groove.
Odorizzi Inks Two-Year Deal with the Astros
We can finally say that Jake Odorizzi has a home after penning a two-year deal with the Astros. Astros pitcher Framber Valdez broke his ring finger on his throwing hand, which made Houston press the panic button.
Luckily, Odorizzi was still on the market because he was trying to raise his demand by waiting to sign with a team. The Astros had just over $12 million left to spend, so Odorizzi likely inked a deal with an average annual value of this amount.
ENJOYING BASEBALL SPOTLIGHT SPRING TRAINING RECAP ARTICLE? Click the link here for more MLB news and updates with Baseball Spotlight!
Giants Sign José Álvarez to One-Year Deal 
The Giants added another left-hander to their roster when they singed José Álvarez to a one-year deal worth $1.15 million. The deal includes a club option to extend Álvarez for a second season paying him $1.5 million. If the Giants do not exercise this power, they will have to pay a $100,000 buyout to the veteran southpaw.
Alvarez will support the Giants out of the bullpen and will probably throw 65 innings this season.
Shohei Ohtani Delivers Home Runs and 100 mph Heat
Shohei Ohtani is coming off a 2020 season where he hit .190 and pitched 1.2 innings. The Angels have made it clear that they are no longer going to treat Ohtani like a god, and it has seemed to work well thus far in Spring Training.
Ohtani will have a regular day in the rotation and hit leading up to and after his pitching starts. Ohtani is 3 for 5 at the plate with a walk and a home run in Spring Training. In his first pitching start, Ohtani struck out five and touched 100 mph on the radar gun.
If he delivers like this in 2021, the Angels could be knocking on Houston's door in the American League West.
Follow me on IG @tannerkern and Twitter @tannerkern_ for game previews, betting analysis, and the best stories from the sports world. Be sure and keep up with the Sports 2.0 Network, Sports 2.0 Twitter, Basketball Articles, Baseball Spotlight, and  Knup Sports for all of my latest content and best takes from around the sports and sports betting world as well!!
---
Join our Discord
to leave a question or comment regarding this article. We have sports fans talking betting all day — every day! JOIN THE DISCORD NOW AND QUALIFY FOR PRIZES & BETTING SWAG!
---