Jarred Kelenic Debut: A new era of Seattle Mariners baseball has officially begun because Jarred Kelenic has arrived in the show. Kelenic, the fourth-ranked prospect in baseball, made his MLB debut on Thursday at home against the Cleveland Indians.
He had one dominant performance, but there was a different feeling in the stadium with Kelenic on the diamond. After watching the 21-year-old this weekend, I realized a few things about the slugger.
Jarred Kelenic Debut: Stats for the Weekend
Kelenic had a breakout performance on Friday, April 14th, against the Indians. He went hitless on Thursday, Saturday, and Sunday but left his mark in his second game.
On Friday, Kelenic went three for four. His hits all went for extra bases, including a home run and three doubles, which resulted in three RBI.
He struck out five times in four games, but Kelenic was not cheated at the plate. He went into the box looking to do damage on every hack.
Even though Kelenic was hitless in three of four games, manager Scott Servais was still impressed.
"He's wired a certain way that it is a battle every time he steps into the batter's box. There's going to be some at-bats along the way that he pops up the first pitch or he rolls it over to the second baseman. It happens. It's part of baseball. But, he has a really good plan. He's got a really good approach. He's asking the right questions. He's very in tune. He watches the game very intently."
Jarred Kelenic Debut: Not Afraid
The first takeaway from Kelenic's debut was that he is not afraid. No stage is too big for the youngster. Mariners' manager Scott Servais chose to bat Kelenic in the leadoff spot.
After the crowd erupted on Thursday when he stepped into the box, Kelenic did not waste any time at the dish. The outfielder swung at the first pitch and just missed the sweet spot on his bat, which led to a fly ball to right field.
Very few big leaguers swing at the first pitch in general. Kelenic's aggression going after the first pitch of his MLB career was very fun to watch. If you are a Mariners fan, expect this excitement for years to come because of the outfielder.
Jarred Kelenic Debut: Power at the Plate
There are very few players in MLB who are complete hitters when the entire league is examined. Jarred Kelenic is a five-tool player that can do everything at the plate. On Friday, he showed that he has the power to leave the yard.
JARRED KELENIC FIRST MLB HIT: HOMER

Welcome to the bigs.

— Barstool Sports (@barstoolsports) May 15, 2021
Kelenic's first hit of his career was a 109.3 mph shot to right-center field over the 380 ft. marker. When the ball left Kelenic's bat, it sounded different than other players in the show.
Jarred Kelenic Debut: Big-League Mentality
It usually takes young players a couple of years to figure out how to be a big leaguer. Kelenic could venture on this course, but he already has a big-league mentality. His focus and pregame preparation in his first four games made him look like a veteran.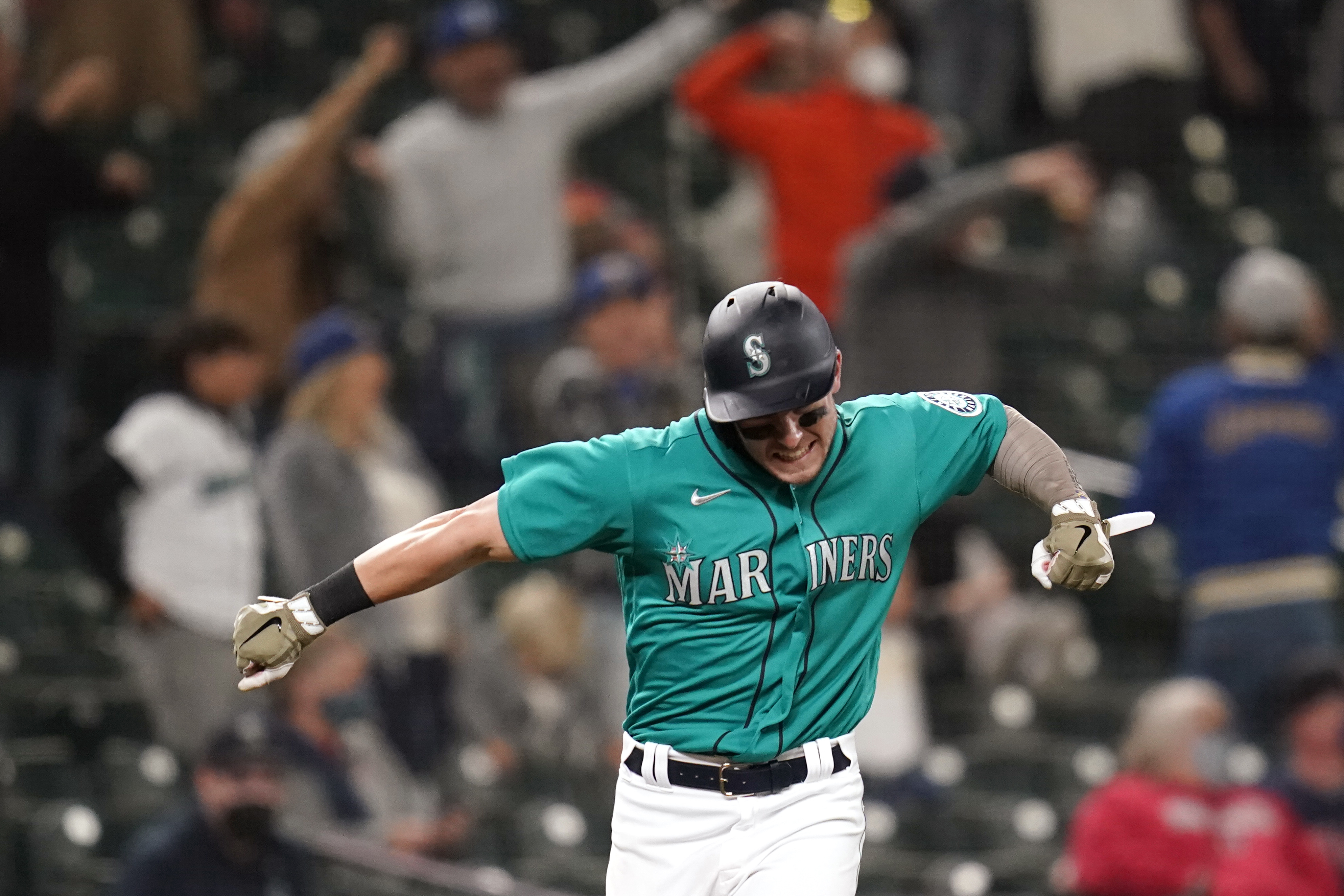 The cameras were all over Kelenic going through his pregame ritual, and he stayed locked in throughout his opening series. The real test for a professional is what they do when the cameras are removed.
Kelenic is already earning praise from his teammates for his effort outside of the lines. Mitch Haniger gave credit to Kelenic following Friday night's game.
"To see a guy as young as he is come in confident, especially with the work to back it, it's great to see. That's what you want. You want a young player coming up who works hard, who goes about his business the right way."
It's one thing to gain respect from your manager. You have arrived when veterans are touting your work ethic and ability.
Expect the compliments for Jarred Kelenic to continue because of his ability, work ethic, and personality.
Tanner Kern is a writer for Knup Sports and the Sports 2.0 Network. He is the host of Between the Lines, the official show of Baseball Spotlight, and the main contributor for the website. Connect with Tanner on IG @tannerkern and Twitter @tannerkern_.
---
Join our Discord
to leave a question or comment regarding this article. We have sports fans talking betting all day — every day! JOIN THE DISCORD NOW AND QUALIFY FOR PRIZES & BETTING SWAG!
---