Trey Mancini was the Story of All-Star Week
The narratives throughout baseball this week were Shohei Ohtani's dual-threat ability, Vladimir Guerreri Jr. following in his father's footsteps, and Pete Alonso repeating in the Home Run Derby. Although, all of these storylines paled in comparison to Trey Mancini's showing in the Home Run Derby.
Mancini made it to the finals, where he was bested by Alonso. Although, for Mancini, he walked off Coors Field on Monday night as a champion. At one point, Mancini thought he would never play baseball again because of Stage III colon cancer.
Yet, the superstars' fight never wavered, and in his first season back after beating cancer, he found himself in the final round of the Home Run Derby.
Not @Orioles fans. Just in #Birdland to see @TreyMancini!

Great father-son day at the yard with @1_JimKern! pic.twitter.com/YTZxHzvSmu

— Tanner Kern (@tannerkern_) July 10, 2021
Trey Mancini's Cinderella Run
To beat Stage III colon cancer, one must be tough. Mancini's toughness was on full display in front of 50,938 spectators at Coors Field on Monday. He defeated Matt Olson in the first round by a score of 24-23.
Mancini then defeated hometown star Trevor Story in the semifinals 13-12. After two victories, Mancini proved that he was not just an honorary member of the derby. The first baseman was in Denver to win.
Mancini battled Alonso in the final, and both players finished their regulation round with 17 bombs. In extra time, the Oriole crumbled, only leaving the yard five times. Alonso looked outstanding in his extra minute, leaving the yard six straight times.
Despite the 23-22 defeat, Mancini held his high because he had just accomplished something that very baseball players, let alone people, could do throughout the world.
After the event, Mancini was fighting back tears with the media.
He said, "It's hard to put into words. I'm just trying to appreciate everything all day, but there are nerves early on, I'm not going to lie. Being in this atmosphere is incredible, especially considering where I was a year ago. I was two months out from finishing treatment. I'm really, really appreciating this a lot."
Conquering Adversity
Trey Mancini is off to an incredible start in 2021. He is slashing .256/.331/.46 with 16 home runs and 55 RBIs. His journey makes these stats even more significant.
The 29-year-old, who was the team's MVP in 2019, was notified by trainers in 2020 of low iron levels at Spring Training. This led to further tests, which showed that Mancini had colon cancer.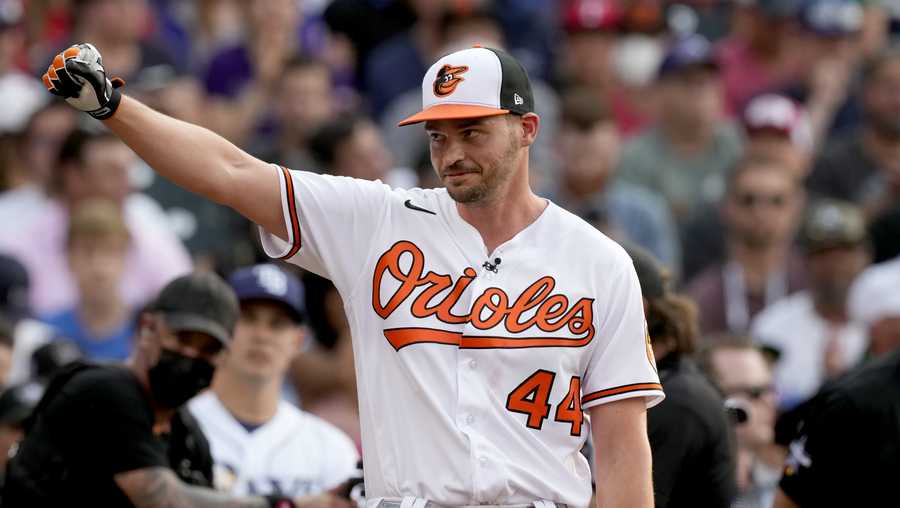 He underwent surgery to remove the tumor in March and had to go through several chemotherapy treatments. This caused him to miss the 2020 season, which was shortened due to COVID-19.
There has not been a better story in baseball this season, and he is a lock for 2021 MLB Comeback Player of the Year.
---
Join our Discord
to leave a question or comment regarding this article. We have sports fans talking betting all day — every day! JOIN THE DISCORD NOW AND QUALIFY FOR PRIZES & BETTING SWAG!
---