On Wednesday, Bo Bichette established himself in Major League Baseball. The 23-year-old shortstop hit off a walk-off home run, his second blast of the day, to lead the Blue Jays over the Yankees.
Bichette is part of Toronto's young core of second-generation players along with Vladimir Guerrero Jr. and Cavan Biggio. If you are a Blue Jays fan, you should be very excited about the future of this club.
If you are a fan of the Yankees, Red Sox, Orioles, or Rays, you should be concerned. The sky is the limit for the young stars in Toronto, and Bo Bichette is at the center of this talent pool.
Professional Roots
Dante Bichette, Bo's father, was a fantastic ballplayer from 1988 until 2001 with the Angels, Brewers, Rockies, Reds, and Red Sox. He became a household name in Colorado, where he made four All-Star appearances in seven seasons with the Rockies.
Dante's best season came in 1995, when he finished second in the National League MVP race, slashing .340/.364/.620. The outfielder led the league in hits (197), home runs (40), and RBIs (128) but came up short in the final vote.
However, Dante did earn the Silver Slugger in 1995 for his dominant campaign. Bo Bichette was born in 1998, so he probably does not remember his dad playing in the show.
Despite this, the baseball gene was undoubtedly passed down to Bo, and he is going to be even better than his father as he continues to hone his skills.
The Lakewood High School Product
Bo Bichette was a star at Lakewood High School in St. Petersburg, Florida. As a senior, he batted .307 with 16 bombs and 44 RBIs.
His dominant campaign was seen by scouts all over MLB. Bichette received the Gatorade Player of the Year, and he was also named Florida's Mr. Baseball in 2016.
Bichette could have played college baseball at any Power Five school he desired, but the Blue Jays came knocking in the MLB Amateur Draft, and the prospect answered the door.
Bichette was selected in the 2nd round by Toronto, and he signed with the club, beginning his journey to the show.
The Show
Bichette started his climb through the Minor League in the summer of 2016. He made his MLB on July 29, 2019, against the Royals at 21 years of age. The shortstop stepped up to the plate four times and collected one hit.
Even though Bichette's stats in his debut were modest, he quickly burst onto the professional landscape. Bichette started 46 games in his rookie season, slashing .311/.358/.571. He belted 11 homers and drove in 21 RBIs.
Bichette encountered some adversity in 2020 between injuries and the shortened COVID-19 schedule, but he still delivered when he was in the lineup. The Florida native appeared in 29 games and batted .301.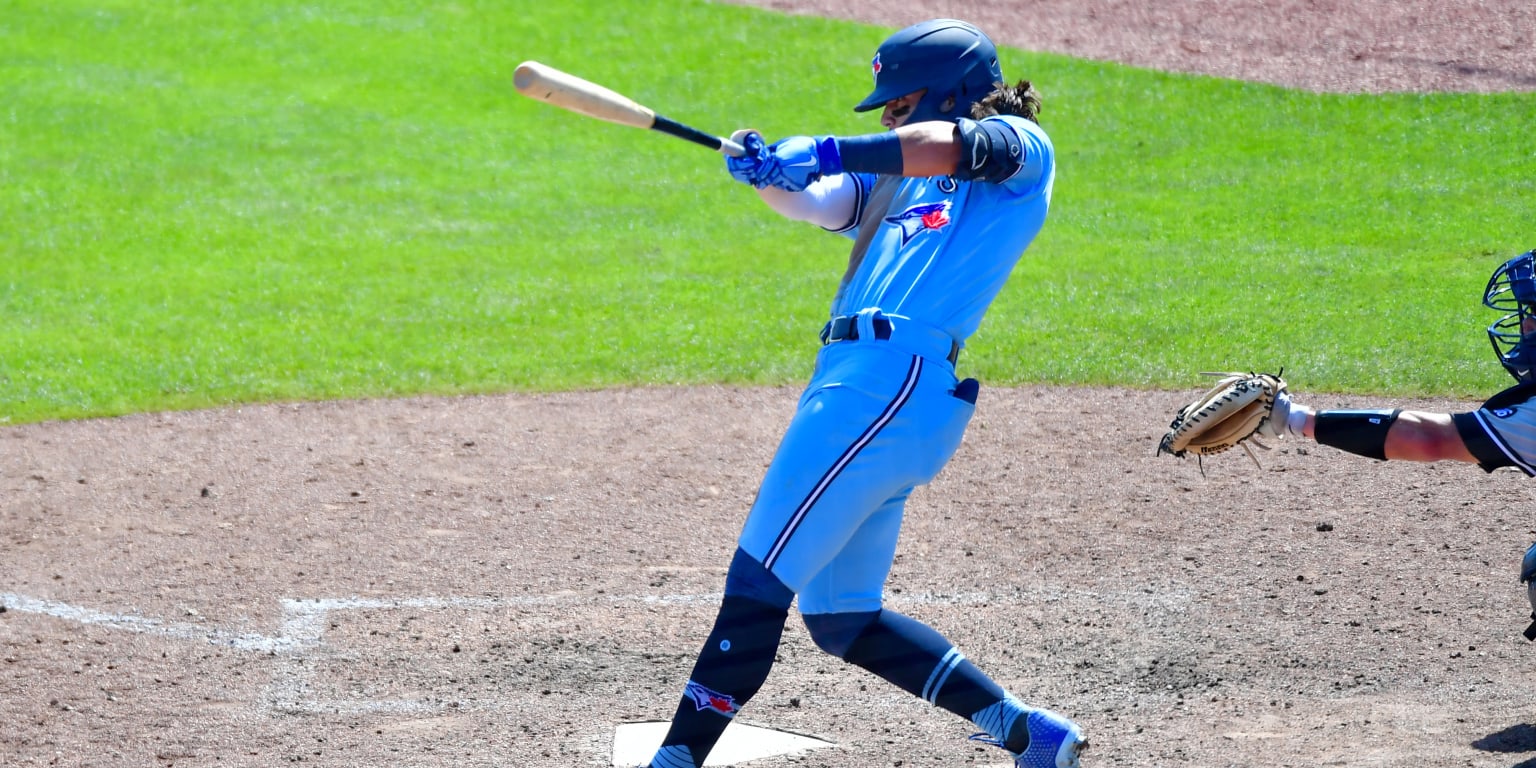 His strikeout rate was 21%, which is great for any big leaguer, let alone a 22-year-old kid. Bichette's stock continued to rise, and the young core of stars in Toronto began to put the Blue Jays on the map.
Bichette has started 13 games in 2021 and taken 58 at-bats. His current slash line is .302/.345/.604 with four homers and ten RBIs. The kid is making a significant impact, and if he can stay healthy, Toronto will be in great shape when October rolls around.
Ice in his Veins
If you have ever seen a player point to their forearm after coming up big in a contest, they are claiming that they have ice in their veins. This expression is signaling that an athlete is cold-blooded because of their ability to come up clutch.
Bichette did not point to his veins on Wednesday as he rounded the bases after his walk-off home run against the Yankees, but I can assure you that the 23-year-old is cold-blooded.
Bichette's second home run of Wednesday's contests versus New York gave his team a 5-4 victory. The home run was exceptional, but Bichette exhibited the complete package of a professional ballplayer in the field, at the plate, and on the bases.
Bichette hit for power and contact, challenging every pitcher he faced. He made exceptional plays at shortstop, and he stole a base. This outing was Bichette's best of his career, and it's only up from here.
Jays' skipper Charlie Montoyo said it best.
"The sky is the limit with this kid."
Follow me on IG @tannerkern and Twitter @tannerkern_ for game previews, betting analysis, and the best stories from the sports world. Check out my baseball show, Between the Lines, every Sunday at 6:00 PM ET. Make sure and keep up with the Sports 2.0 Network, Sports 2.0 Twitter, Basketball Articles, Baseball Spotlight, and  Knup Sports for all of my latest content and best takes from around the sports and sports betting world as well!!
---
Join our Discord
to leave a question or comment regarding this article. We have sports fans talking betting all day — every day! JOIN THE DISCORD NOW AND QUALIFY FOR PRIZES & BETTING SWAG!
---